Tennessee Titans fans I beg you, please just have fun this season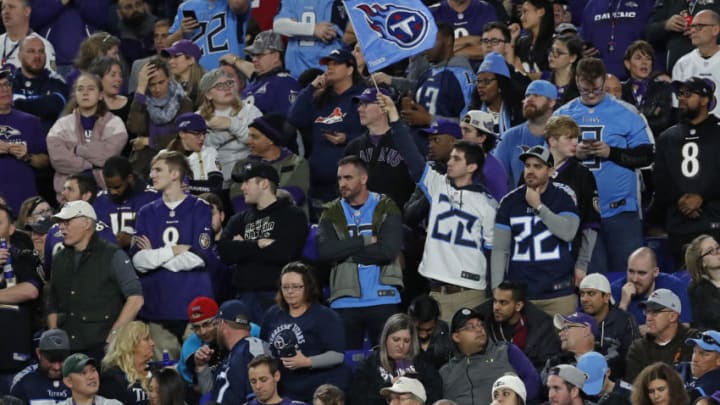 BALTIMORE, MD - JANUARY 11: A fan reacts during the third quarter of the AFC Divisional Playoff game between the Baltimore Ravens and the Tennessee Titans at M&T Bank Stadium on January 11, 2020 in Baltimore, Maryland. (Photo by Todd Olszewski/Getty Images) /
Titans Twitter, I have a love-hate relationship with you.
On one hand, Titans Twitter is a gold mine of memes. Even our media members are heavily involved in the Twitter fanbase.
Most days, Titans Twitter is perfectly fine and honestly pretty enjoyable to participate in. But once there's anything that splits opinion, mentions get flooded with absolute vitriol.
For however long this season lasts, be it one game or all 16, please just remember to try not to have such huge knee jerk reactions. I can already see the character limit length tweets about how Darrynton Evans is a bust because his first carry on a third-down is a loss of two yards.
Take some notes from our new friends at Nashville SC, and our fanbase on Twitter, and just have fun. Spam other teams with memes on game weeks, crank the sarcasm up as much as possible and stop engaging with people who clearly don't understand this team.
I know how difficult it is to not dunk on every ignorant Indianapolis Colts fan, or really any Jacksonville Jaguars fan, or every Houston Texans fan who wants to pretend like they have any claim to the Oilers legacy, but show restraint. They're not worth any of the 240 characters you'd spend on them.