Draft: Bengals, Panthers & Buccaneers most likely trade partners for Titans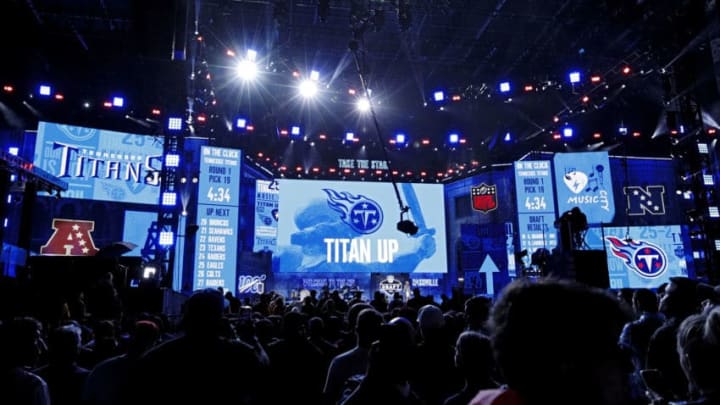 NASHVILLE, TN - APRIL 25: General view as the Tennessee Titans wait to select during the first round of the NFL Draft on April 25, 2019 in Nashville, Tennessee. (Photo by Joe Robbins/Getty Images) /
(Photo by Alika Jenner/Getty Images) /
With no picks in the 4th or 6th round, the Tennessee Titans could look to trade back and gather more assets.
The Tennessee Titans have seven picks in the 2020 NFL Draft, but three of those are in the 7th round.
Tennessee didn't just lose these picks in meaningless draft day trades last year. Jon Robinson turned those picks into one of the best quarterbacks in the NFL last year (Ryan Tannehill) and Reggie Gilbert who added depth to the EDGE group.
While there has been chatter that the Titans might trade UP from the 29th pick, I don't see that happening. The team just doesn't have the draft ammo to jump high in the first round even if there is someone that they really love falling down the board.
The Titans, at best, rank 25th in the league in draft capital according to Rene Bugner who posted an interesting breakdown of draft capital based on different trade value charts. After seeing that you can see why the cost of trading up wouldn't be worth it.
Unless the Titans have somebody fall in their laps at 29 that they love, I expect a trade back to be heavily discussed and likely executed.
There are several teams I think could be interested in negotiating with the Titans. Every year it seems there is a sure-fire Top-10 pick that for one reason or another falls to the bottom of the first round.
Today, I'm going to take a look at a few possible scenarios where the Titans move from the 29th pick. So if you are wondering why Joe Burrow is at the top of this slide, it isn't because the Titans are going to be able to trade for him, but they can facilitate him getting some weapons to help him succeed early.
Let's look at Tennessee's first trade option.