Mel Kiper has struggled to predict Tennessee Titans draft picks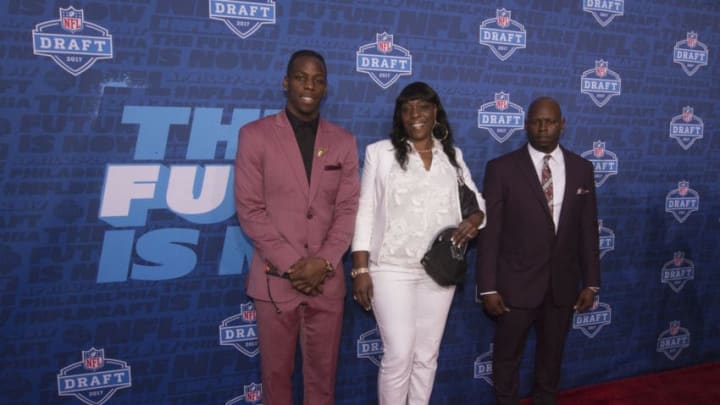 PHILADELPHIA, PA - APRIL 27: John Ross of Washington poses for a picture with his mother Dana Mitchell and father John Ross Jr. on the red carpet prior to the start of the 2017 NFL Draft on April 27, 2017 in Philadelphia, Pennsylvania. (Photo by Mitchell Leff/Getty Images) /
The preeminent draft guru Mel Kiper, isn't the best predictor of Tennessee Titans draft picks.
For all of Mel Kiper's accolades, maybe Tennessee Titans shouldn't treat his word as gospel given how much he has struggled to predict their picks in the past.
First I should say, the draft coverage you see now and all the fun that goes with it, doesn't exist without Mel Kiper. He is on the Mount Rushmore of draft analysts and he should be respected for what he has done to make the offseason more interesting.
Having said that, people are making a lot out of what he mocks to the Tennessee Titans when honestly that should be a great starting point for what the Titans won't do.
Since Marcus Mariota was the clear and obvious choice at #2 and since Jon Robinson has taken over at GM, Mel Kiper hasn't gotten a single pick for the Titans correct in his mock drafts.
Alright, you may think that missing on picks in the teens and twenties isn't uncommon and that is a fair point. But what if I said not only has he gotten every pick wrong, but he has gotten every position wrong too?
2016 Final Kiper Mock Draft: Vernon Hargreaves CB, Florida
Actual pick: Jack Conklin OT, Michigan State
2017 Final Kiper Mock Draft (5th overall): Marshon Lattimore CB, Ohio State
Actual pick: Corey Davis WR, Western Michigan
2017 Final Kiper Mock Draft (18th overall): John Ross WR, Washington
Actual pick: Adoree Jackson CB, USC
2018 Final Kiper Mock Draft: Marcus Davenport EDGE, UTSA
Actual pick: Rashaan Evans LB, Alabama
2019 Final Kiper Mock Draft: Rashan Gary EDGE, Michigan
Actual pick: Jeffery Simmons DL, Mississippi State
Now, I am not saying that I am perfect or anything like that I am just saying that everyone reading this has been as close to predicting what the Tennessee Titans will do with their first round pick as Mel Kiper over the last four years.
To be fair, his 2017 mock draft had the right needs in the wrong order but again the point is just to remind everyone that while Mel Kiper is very important to the draft community, he doesn't have much insight into what the Titans will do on draft day.