Tennessee Titans kickers were historically bad in 2019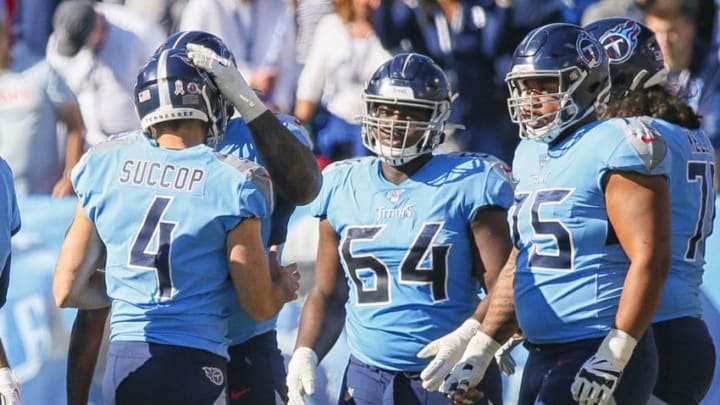 NASHVILLE, TENNESSEE - NOVEMBER 10: Kicker Ryan Succop #4 of the Tennessee Titans is consoled by teammates after missing an extra point during the first half of a game against the Kansas City Chiefs at Nissan Stadium on November 10, 2019 in Nashville, Tennessee. (Photo by Frederick Breedon/Getty Images) /
Tennessee Titans kickers were the worst in the league in 2019, but just how bad were they in NFL history?
When ESPN's Mike Reiss was piecing together his latest "quick-hit" article, he made sure to include the fact that league-wide field goal percentage was down 3.1 percent this year, reaching a decade low of 81.6 percent. That stat made me wonder how much of that drop is attributable to the three Tennessee Titans who attempted a field goal in 2019, and how does it match up historically?
To find out, I parsed through the last 50 seasons of NFL kicking data and removed the team with the worst kicking stats each year, this way I could see which team did the most to lower league-wide field goal percentage in a single season since the merger.
Before we dive in, I'd like to get the absolute worst offender out of the way. The Titans are half the offender this team is, and I mean that. Also, three times in this period did two teams tie for worst field goal percentage, in 1988, 2004, and 2011.
For these years, I simply took one team out and left the other in because my goal is to see which individual team made the rest of the league's special teams units look the worst.
I present to you the 1972 Baltimore Colts. Finishing with a record-low field goal percentage of 33.3 percent following an absolutely abysmal 13 makes on 39 attempts, this Colts team brought league-wide field goal percentage down by 1.3 percent all by themselves.
The 2019 Tennessee Titans finished with a field goal percentage of 44.4 percent, tied for 10th worst since the merger, and worst since the 1983 New England Patriots, who finished at 40.9 percent.
All in all, the Titans made eight field goals on 18 attempts, while the other 31 teams converted 794 field goals on 965 attempts, good for a Titans-free total of 82.2 percent. This means the Titans brought league-wide field goal percentage down by 0.6 percent.
Only 11 teams since the merger have brought that percentage down further by themselves.
This is also the first time a team has finished below 50 percent since the 1987 Minnesota Vikings, who finished having converted 48.3 percent of their attempts. Those Vikings also won two playoff games only to fall in their conference championship game.
The Titans could have made things much worse had they not discovered the brilliant strategy of scoring only touchdowns so that they would not have to attempt field goals. Following a Week 15 loss to the Texans in which he missed his fifth field goal of the season, kicker Ryan Succop was placed on injured reserve and Greg Joseph was brought in.
After that attempt, the Titans did not attempt a single field goal until the first quarter of the AFC Championship loss to the Chiefs. Joseph nailed it.