Are the Tennessee Titans really healthier after the New Orleans Saints game?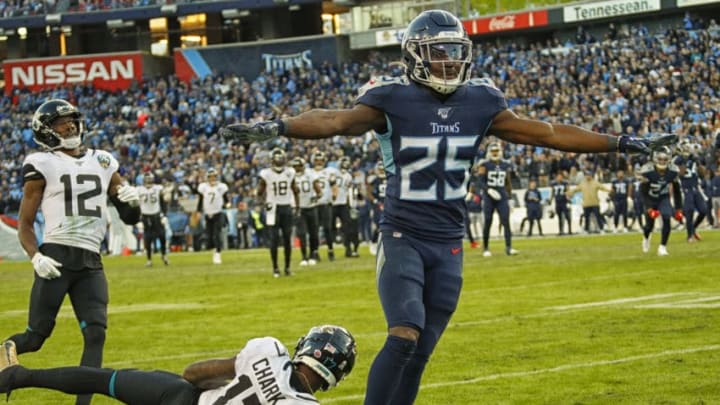 NASHVILLE, TENNESSEE - NOVEMBER 24: Adoree' Jackson #25 of the Tennessee Titans waves his hands after breaking up a pass attempt to D.J. Chark #17 of the Jacksonville Jaguars at Nissan Stadium on November 24, 2019 in Nashville, Tennessee. (Photo by Frederick Breedon/Getty Images) /
Are the Tennessee Titans any healthier than they were the first time they played the Houston Texans?
You would think that after resting several starters against the New Orleans Saints last week, that the Tennessee Titans would be healthier than they were in their first matchup with the Houston Texans.
However, when you look at the injury report, it almost feels like there are even more nagging injuries plaguing the team.
Just looking back at the players who actually missed the first matchup, these are the names that ended up on the inactives list in Week 15:
-Adoree Jackson
So far, neither Jackson or Humphries have practiced this week despite Mike Vrabel saying that they would at least do something today. That is very concerning considering that they now have just one day of practice before their matchup against the Texans which likely means that they are long shots to play.
Sharif Finch has been cut and it was revealed that he has been dealing with a shoulder injury.
The other four are healthy according to the injury reports, with Bates being the big name back at practice.
Another name was added today with Harold Landry missing a day, which would be huge though it was noted that the missed practice wasn't injury related.
With Kalif Raymond almost guaranteed to miss the game this week, we are basically looking at an injury report that will probably still have Kevin Pamphile, Matt Dickerson and another DT on it as well as Jackson and Humphrey.
If you swap Bates out with Raymond as the key special teams player who will miss this week, you are left with one spot on the inactive list which will probably go to Rashard Davis if Landry is healthy.
So after all that, it seems like the only real difference in personnel from the first game between these two teams in Week 15 is that the Titans should be able to cover a little better and they won't return as well.
Sure, it is huge that Derrick Henry is hopefully 100% if that is the case. However, looking at the injury report, the biggest injury questions I have about this game are shifting from the Titans to the Texans.
With Will Fuller out it should make the Texans easier to cover, and of course the real question remains: Is Bill O'Brien so unaware that he would actually put his starting QB's fragile health at risk for a game that means nothing?
Maybe something crazy happens, but either way I don't expect injuries or inactives to play as big of a part in this game as I expected a week ago.