What we learned from Titans Week 13 win over Colts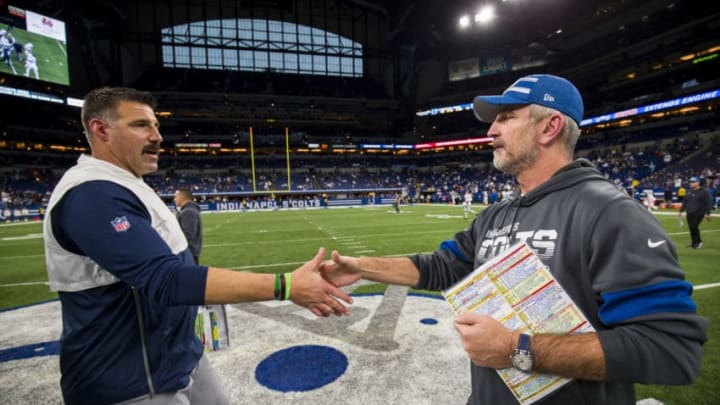 Mike Vrabel, Tennessee Titans (L), Frank Reich, Indianapolis Colts (Photo by Brett Carlsen/Getty Images) /
INDIANAPOLIS, IN – DECEMBER 01: Ryan Tannehill #17 of the Tennessee Titans looks for a receiver as he is sacked by Anthony Walker #50 of the Indianapolis Colts during the second quarter at Lucas Oil Stadium on December 1, 2019 in Indianapolis, Indiana. (Photo by Brett Carlsen/Getty Images) /
Lesson No. 7: The O-line can still wreck a game
The Titans are not out of the woods yet when it comes to their offensive line. The group upfront surrendered six sacks on Sunday, five of which came in the first half alone. Thankfully, the O-line showed some life in the second half and improved its pass protection in the final two quarters.
Now, a few of those sacks can be attributed to Ryan Tannehill holding the ball for too long, but it's still troubling nonetheless. If the Colts were able to get anything going offensively in the first half, the Titans could have found themselves in a hole with their offense struggling mightily.
We do have to give credit where credit is due, as the offensive line has been excellent blocking for Derrick Henry. In Week 13, Henry was consistently picking up chunks of yardage, and his 149-yard performance wasn't the result of just a one monster run and a bunch of small gains.
The offensive line has got to start games off better or else the Titans could find themselves in a hole too deep to climb out of in the weeks ahead. We'd like to think that this Titans team is vastly different than the one that started the season, and for the most part it is, however the O-line remains the biggest concern on offense.