What we learned from Titans Week 13 win over Colts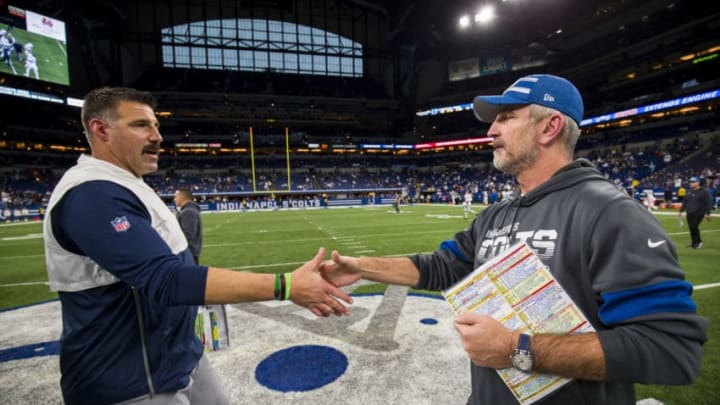 Mike Vrabel, Tennessee Titans (L), Frank Reich, Indianapolis Colts (Photo by Brett Carlsen/Getty Images) /
What were some of the lessons we learned about the Tennessee Titans during the Week 13 win over the Indianapolis Colts?
There were some important lessons we learned about the Tennessee Titans during their Week 13 win against the Indianapolis Colts.
Since 2012, the Colts had owned the Titans, and that was particularly the case at Lucas Oil Stadium. However, the demons were exorcised on Sunday and now the Titans are sitting in a great position to make the playoffs in 2019.
Let's take a look at what we learned.
Lesson No. 1: Not the same old Titans
For awhile there, it looked like we were seeing the same old Titans against the Colts. In the first half alone, Tennessee continuously shot itself in the foot and did everything possible to hand Indianapolis a win on Sunday.
But then the second half happened, and the Titans bounced back in a big way with some huge plays in order to overcome their demons and finally hand the Colts a loss.
Now, we did see some of the same old problems that plagued the Titans earlier in the season (we'll get to that later), but the Titans were able to right the ship and pull out a win. In the past, this is a game the Titans would have surrendered to their division rival even though the deck was heavily stacked against the Colts because of their injuries.
This win was important for reasons other than playoff positioning. It showed that the Titans have finally gotten over the hump of and avoided the pitfalls that have doomed them in the past, and that alone breeds hope that the Titans will be playing football in January.