NFL Power Rankings, Week 13: Titans rise, Cowboys, Eagles and Colts drop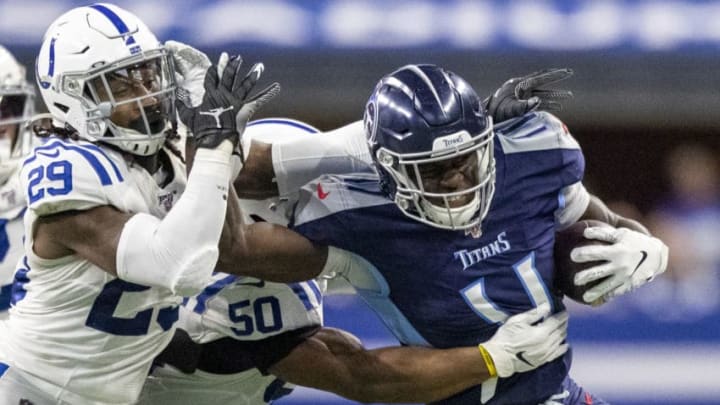 INDIANAPOLIS, IN - DECEMBER 01: A.J. Brown #11 of the Tennessee Titans stiff arms Malik Hooker #29 of the Indianapolis Colts after making a catch in the third quarter of the game against the Indianapolis Colts at Lucas Oil Stadium on December 1, 2019 in Indianapolis, Indiana. (Photo by Bobby Ellis/Getty Images) /
(Photo by Eric Espada/Getty Images) /
20. Philadelphia Eagles

Recap: What is going on in Philly? They have everything to play for but just can't seem to get their players to play crisp, winning football. Not only that but the coaching staff looks like they aren't playing to win, but instead playing not to lose.
Jim Schwartz has got to get that defense playing more that the sum of their parts, but right now I just don't know how that unit gets back on track.
Outlook: The Eagles still have a shot at the playoffs with Dallas leading the division at just 6-6, but right now the winner of this division seems like they are going to be running straight into a buzz saw.
(Photo by Justin K. Aller/Getty Images) /
19. Cleveland Browns

Recap: Pittsburgh vs Cleveland was close, but I don't know if I would really call it interesting. In fact, the most important takeaway from this game is that Baker Mayfield was hurt but not bad enough for him to miss the finish of this game.
Without Myles Garrett, the Browns defense doesn't look nearly as scary, and I don't mean scary like "Oh no, watch out that guy is going to assault you with a deadly weapon" although you could take it that way I guess.
Outlook: The Browns schedule should see them win 7 or 8 games, but I that feels like just enough to end up with a pick in the late teens and stuck with a head coach that really doesn't seem to get it.
It isn't worst case scenario, but it certainly isn't ideal and Browns fans are about to learn what it is like to go from bad to mediocre.