NFL Power Rankings, Week 13: Titans rise, Cowboys, Eagles and Colts drop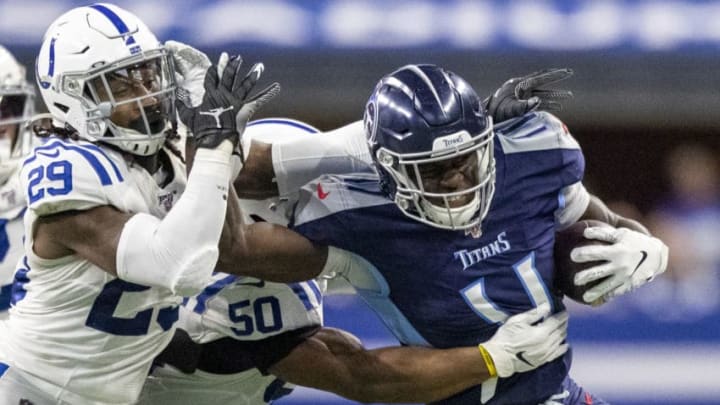 INDIANAPOLIS, IN - DECEMBER 01: A.J. Brown #11 of the Tennessee Titans stiff arms Malik Hooker #29 of the Indianapolis Colts after making a catch in the third quarter of the game against the Indianapolis Colts at Lucas Oil Stadium on December 1, 2019 in Indianapolis, Indiana. (Photo by Bobby Ellis/Getty Images) /
(Photo by Rob Carr/Getty Images) /
2. San Francisco 49ers

Recap: Losing a game against the best team in the NFL by a last second field goal is a fitting way for the #2 team on this list to lose their first game in regulation this year.
The 49ers had a good plan for the Ravens and look like the perfect foil for that team when the Super Bowl comes around. However today it just happened to be a little short of what was needed and the Ravens walked away with the victory.
Outlook: I still believe that this team is built to win at any point in the year, no matter the weather or the stakes. Like I said and like I will say again, this team should be in the Super Bowl based on what we have seen so far. All that is left for this team is to win the games they should win and show that they can go from a "young exciting" team to a real threat in the post season.
(Photo by Rob Carr/Getty Images) /
1. Baltimore Ravens

Recap: All hail king clutch, and no I don't mean Lamar Jackson I mean give Justin Tucker some love.
Having said that, yea we should talk about the Ravens ability to get it done even when Lamar Jackson's stat line looked kinda, sorta human. Still with over 100 yards rushing and passing he was a gamebreaker that keeps defensive coordinators up for weeks before they even have to start planning for him.
Outlook: With the 1 seed in the AFC playoffs feeling like an inevitability, all I can think about is what Greg Roman is going to implement during that extra week of practice before their playoffs actually start.
Can this offense get even more explosive with some potentially bad defenses getting into the post season? I don't know, but right now I can't wait to see what happens next with this team.