NFL Power Rankings, Week 13: Titans rise, Cowboys, Eagles and Colts drop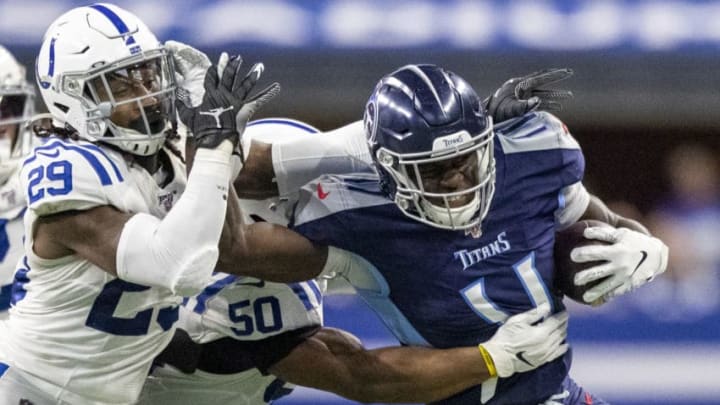 INDIANAPOLIS, IN - DECEMBER 01: A.J. Brown #11 of the Tennessee Titans stiff arms Malik Hooker #29 of the Indianapolis Colts after making a catch in the third quarter of the game against the Indianapolis Colts at Lucas Oil Stadium on December 1, 2019 in Indianapolis, Indiana. (Photo by Bobby Ellis/Getty Images) /
(Photo by Tim Warner/Getty Images) /
4. Houston Texans

Recap: The Texans had a dominant win over the New England Patriots, and I still am not even sure that they played great football.
Don't get me wrong, it is always great to beat a 10-win team, especially when you need that win to keep a lead in your division. However, I don't think anyone played their best game for the Texans tonight but they didn't have to because the Patriots looked like they were walking through the motions.
Outlook: The Texans can effortlessly put up 30 points when everyone is healthy, but the problem is that when they are asked to keep up in a shootout or if they get punched in the mouth they can collapse.
I think the Texans have great upside on offense, but which team are you getting? The team that beat up whatever that version of Tom Brady was, or the team that got stomped by the Baltimore Ravens?
(Photo by Corey Perrine/Getty Images) /
3. Seattle Seahawks

The Seattle Seahawks play on Monday Night Football, but this is what we had to say about them last week:
"Recap: The Seattle Seahawks weren't able to get much going offensively in Week 12, but four Carson Wentz turnovers made things easier on them against the Philadelphia Eagles in the winning effort. Seattle's defense was solid and didn't allow its first touchdown of the game until the final minute of regulation. Outlook: With the Seahawks firmly entrenched in a wild card spot in the NFC, they remain just one game in back of the San Francisco 49ers for the NFC West lead. Seattle will host the Minnesota Vikings in Week 13."