Tennessee Titans: Ryan Tannehill reacts to his Week 7 performance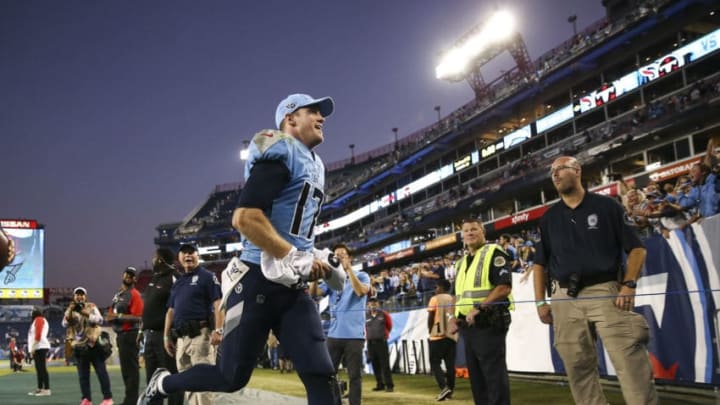 NASHVILLE, TENNESSEE - OCTOBER 20: Ryan Tannehill #17 of the Tennessee Titans runs off the fiend after the game with the Los Angeles Chargers at Nissan Stadium on October 20, 2019 in Nashville, Tennessee. (Photo by Silas Walker/Getty Images) /
Tennessee Titans quarterback Ryan Tannehill spoke about his first start of 2019 after the team's Week 7 win over the Los Angeles Chargers.
Tennessee Titans head coach Mike Vrabel was looking to create a spark for his struggling offense after getting shut out in Week 6, and Ryan Tannehill turned out to be just the guy for the job.
The Titans offense scored 23 points in a winning effort against the Los Angeles Chargers, and Tannehill looked sharp at the helm. The former No. 8 overall pick completed 23-of-29 passes for 312 yards and two touchdowns to one pick. He also enjoyed some of the best blocking the Titans offensive line has provided this season.
Tannehill's impressive effort was almost wasted after a late surge by the Chargers, but the Titans defense was able to make a goal line stand at the end of regulation to close the deal on the team's 23-20 win.
After the game, Tannehill spoke about his performance, per Paul Kuharsky.
""Coaches did a good job preparing me, I felt really confident coming in. Every play, kind of had a plan for it and what we were trying to accomplish when Art made the call. The guys did a good job executing, you see receivers getting open, O-line blocking and when that's happening, playing quarterback is a lot of fun. You get to sit back and deliver the football and let your guys make plays, so I had a ton of fun today.""
Not only were Tannehill's raw numbers good, he passed the eye test. The Texas A&M product showed great accuracy in his throws and fit balls into tight windows to allow his receivers to make plays.
He also displayed great pocket presence and allowed plays to develop before dropping his eyes. The Titans offense moved the ball up and down the field with success in Week 7, which was a far cry from what we've seen in the weeks prior.
In all, Tannehill got eight different receivers involved, and everyone from Corey Davis to Adam Humphries made contributions. It was great to see the Titans quarterback utilize every single one of the weapons at his disposal.
There's no question Tannehill has earned the right to keep the starting job, and the Titans will look to keep this newfound momentum going in Week 8 against a Tampa Bay Buccaneers pass defense that is the worst in the NFL.