3 things we learned when Tennessee Titans called up Jeffery Simmons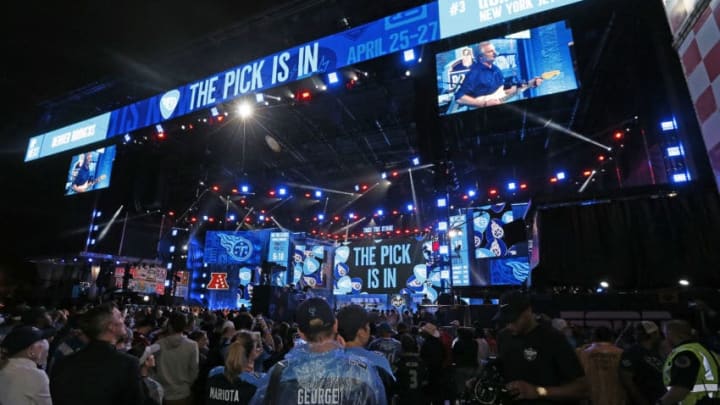 Tennessee Titans (Photo by Frederick Breedon/Getty Images) /
Robinson is smart enough to know which moves help his team the most, now and on draft day.
The Tennessee Titans have a top-10 GM in the NFL and if you can't see that I feel devastated for you. This isn't because he made a big trade or signed a huge free agent to a deal, it is because he just gets the whole picture of running an NFL franchise.
Today we saw that two fold. First of all, we saw him get immediate rewards on a player that many said wouldn't see the field until 2020 and if he saw the field in 2019 it would be in December.
We don't know what Simmons will be yet, but we do know that everything he put on tape with Mississippi State screams top-10 (or higher) talent. With powerful hands and a big frame he has the strength to grab and shuck NFL offensive linemen and we saw him do just that in college.
The other thing that happened today that I didn't even realize was this:
So the Titans didn't actually add a draft pick to their own arsenal next year, but they did make a few picks just a tiny bit better while also stealing a pretty important pick away from the Baltimore Ravens.
In one day we saw Jon Robinson land a large-scale win with Simmons being back nearly a season earlier than people expected. But it is the small-scale win that is also impressive to note.
He could have cut Austin Johnson who has been playing at the same level, but instead he did the calculated move and made an AFC team just a little bit weaker down the line.
It is the little things (and well, the big things) that make the GM position so difficult to quantify and evaluate, but the job he has done improving the personnel in this roster on both sides has been impressive. Now if the offensive coaching staff will just get it together…