Tennessee Titans: How Jeffery Simmons impacts the defense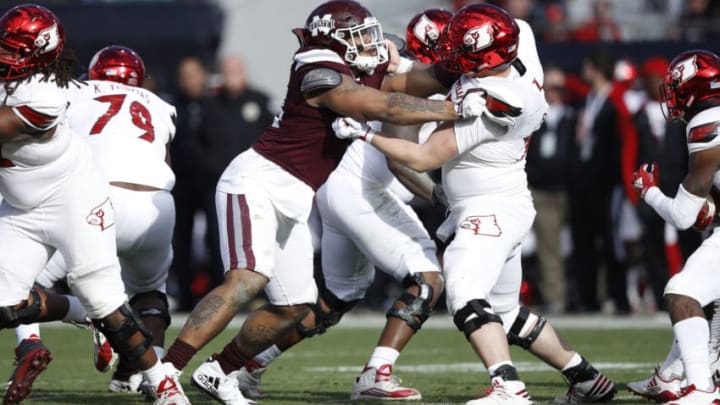 JACKSONVILLE, FL - DECEMBER 30: Jeffery Simmons #94 of the Mississippi State Bulldogs in action against the Louisville Cardinals during the TaxSlayer Bowl at EverBank Field on December 30, 2017 in Jacksonville, Florida. The Bulldogs won 31-27. (Photo by Joe Robbins/Getty Images) /
NASHVILLE, TN – APRIL 25: Jeffery Simmons of Mississippi State is announced as the first-round pick of the Tennessee Titans during the NFL Draft on April 25, 2019, in Nashville, Tennessee. (Photo by Joe Robbins/Getty Images) /
1. Run defense
When the Titans drafted Jeffery Simmons, I felt it was an almost perfect response to the Indianapolis Colts' blueprint. It couldn't be more fitting, a Simmons vs. Nelson matchup that could last for a decade. I'm referring to Colts left guard, Quenton Nelson, who is an absolute monster.
The Titans went and grabbed a freak-of-nature of their own.
Primarily a 0 or 1-technique, Simmons stands at 6-foot-4 inches tall and weighs in at 301 pounds. His job will be to line up directly opposite the center, sometimes shading the inside shoulder of either guard alongside him.
His primary objective? Clogging up the arteries of rival rushing attacks and swallowing up RBs in the backfield. In three years at Mississippi State, Simmons racked up 33 tackles for loss — a good sign.
Side-note: There's a world where the Titans move Simmons all over the defensive line and he plays some 3 or 5-technique as well.
The Titans do an above-average job of getting the initial push, but it's certainly an area the defensive line can improve on. According to Football Outsiders, the Titans are the 9th-best run-stuffing team in the league through six weeks. And yet, they allow 4.43 yards per carry.
Doesn't it feel like something is missing? Defensive tackle Jurrell Casey has been extremely quiet lately, and the defensive line feels lethargic. Maybe they, too, need a shot in the arm, or perhaps I'm asking too much.
Whatever the case may be, Simmons will be eased into the gameplan by the coaching staff. And when he's in, Big No. 98 will be tough to move.