PFF says Tennessee Titans made the right choice drafting Jeffery Simmons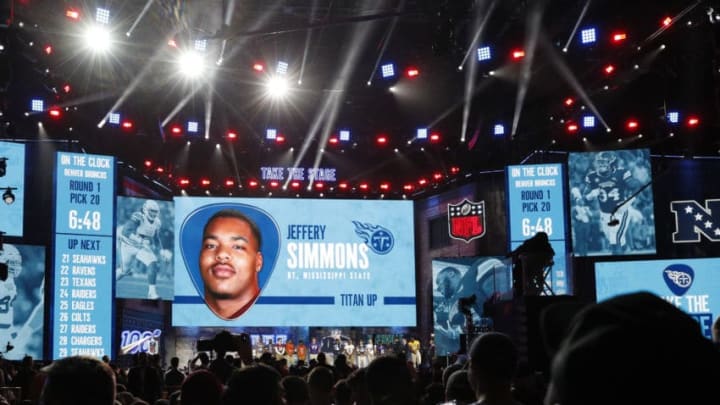 NASHVILLE, TN - APRIL 25: Jeffery Simmons of Mississippi State is announced as the first round pick of the Tennessee Titans during the NFL Draft on April 25, 2019 in Nashville, Tennessee. (Photo by Joe Robbins/Getty Images) /
Tennessee Titans already look smart for Jeffery Simmons draft pick.
If you had to pick criticisms from the Tennessee Titans 2019, you were already fighting an uphill battle because almost everyone agreed that GM Jon Robinson got value with all (or nearly all) of his picks.
However some people did try to run with that narrative and the biggest issue people had was passing on potential immediate starters in favor of top-10 talent Jeffery Simmons.
The issue with Simmons was that he wasn't going to be able to play for a chunk of the season after an ACL injury in February.
While most saw the value in the pick, some saw a guy that the Titans were going to have to wait for despite being a playoff caliber team.
Football Outsiders put it best saying:
"Mississippi State defensive tackle Jeffery Simmons, who suffered a torn ACL in February, would have been selected much higher if not for the injury. While some consider it a savvy move to take a potential top-5 player at 19, detractors believe that the Titans, a team that has sat on the cusp of playoff success the past two years, needed to think about the present rather than the future."
SI.com ended up on the detractor side, focusing on the lack of immediate presence on the field and suggesting that the Titans could have looked elsewhere:
"The Titans must like the talent and upside because Simmons could miss most of his rookie season rehabbing an ACL injury. Plus, they did not have any immediate need at interior D-line; Jurrell Casey is still a stud, and Austin Johnson and DaQuan Jones are solid. The Titans could have used some reinforcement at tight end and safety, but if they feel those positions can be addressed in the next few rounds, it's hard to fault a team for investing in talent."
While I wholeheartedly disagree with the narrative that the Tennessee Titans didn't need an upgrade at DT after last season, the fact remains that if this class was going to be evaluated from above average to top-tier (trying to avoid "good to great") then Simmons would have to play really well and/or they would have to not miss out on anything around where they picked.
Luckily, PFF has a great way to see exactly what the Titans "missed out" on in the back half of the draft.
That link is to an article on the grades of all 1st round rookies this year, and it is slim pickings after 19.
Only 4 of the remaining 13 players in the 1st round have a grade above 60.0, and they are:
21: Darnell Savage, Safety (Green Bay)
24. Josh Jacobs, RB (Oakland)
25. Hollywood Brown, WR (Baltimore)
26. Montez Sweat, EDGE (Washington)
The Titans were never going to take a safety or running back that high, and with A.J. Brown grading out higher than Hollywood Brown that seems like an obvious win.
Montez Sweat is the only player that could have been a guy that the Tennessee Titans could have used, but he only has 1 sack on the season and probably isn't a massive upgrade over what Sharif Finch has done.
If Jeffery Simmons is the talent that everyone believes him to be (myself included) then the Titans absolutely gambled and won in the 2019 NFL Draft and so far, it looks like he is going to be the best option the Titans could have made both short and long-term.