Tennessee Titans: Marcus Mariota talks Corey Davis' slow start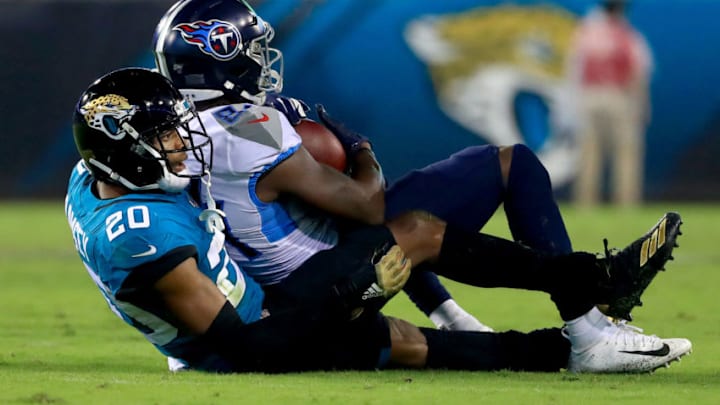 JACKSONVILLE, FLORIDA - SEPTEMBER 19: Jalen Ramsey #20 of the Jacksonville Jaguars tackles Corey Davis #84 of the Tennessee Titans during a game at TIAA Bank Field on September 19, 2019 in Jacksonville, Florida. (Photo by Mike Ehrmann/Getty Images) /
Tennessee Titans quarterback Marcus Mariota is taking blame for the slow start to wide receiver Corey Davis' season.
One of the bigger disappointments after three games of the 2019 season has been the start of Tennessee Titans wide receiver, Corey Davis.
After an excellent camp led to a ton of hype surrounding the third-year pro, Davis' numbers have been lackluster to say the least. The former No. 5 overall pick has just eight catches for 82 yards and no touchdowns.
It's certainly not the start most of us envisioned, but it isn't all Davis' fault. Part of Mariota's struggles to start the season has been his inability to find Davis when he does get open, or just simply missing him when throwing his No. 1 receiver the ball.
Whatever the case may be, the chemistry between Mariota and Davis doesn't seem all that strong.
Mariota, who would take blame for bad weather if given the opportunity, is taking blame for Davis' slow start, according to Erik Bacharach of The Tennesseean.
""I think we need to be better for sure, and I think that's specifically on me," Marcus Mariota said when asked about his chemistry with Davis, who had 13 catches for 151 yards through the first three weeks of last season. "I think he's finding ways to get open. I just got to get him the ball.""
Davis isn't the only Titans receiver off to a slow start. Adam Humphries was non-existent before totaling 93 yards on six catches in Week 3, and rookie A.J. Brown has been very quiet since finishing his NFL debut in Week 1 with 100 yards.
Aside from Mariota's own issues, the Titans quarterback being under constant pressure isn't giving him much time to even look for his receivers. Furthermore, the spacing of Titans pass-catchers as a whole has been abysmal.
As a result, tight end Delanie Walker is the only Titans pass-catcher who has come out of the first three games with any sort of consistent production, and that's an issue for a Titans offense that needs more playmakers to step up.
Week 4 against the Atlanta Falcons presents yet another opportunity for Davis and the receiving corps. to get on track.