Tennessee Titans should call the Miami Dolphins about these potential trades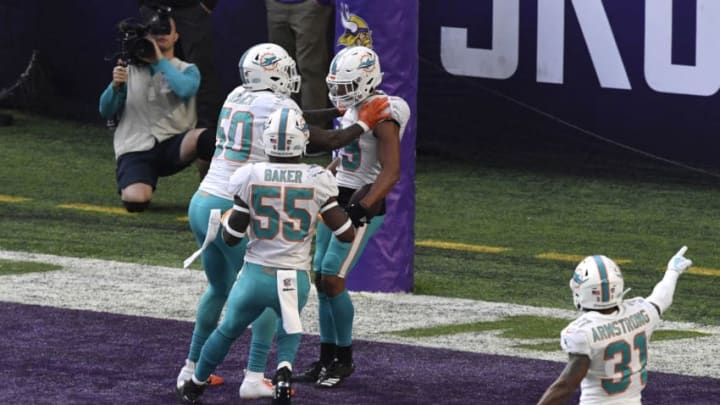 MINNEAPOLIS, MN - DECEMBER 16: Minkah Fitzpatrick #29 of the Miami Dolphins celebrates scoring a touchdown after intercepting a pass by Kirk Cousins #8 of the Minnesota Vikings in the second quarter of the game at U.S. Bank Stadium on December 16, 2018 in Minneapolis, Minnesota. (Photo by Hannah Foslien/Getty Images) /
(Photo by Hannah Foslien/Getty Images) /
When Fitzpatrick was coming out of college way back in 2018, I loved him as a prospect like everyone else. I thought his ceiling might be a little bit lower than some of the top names, but if you asked me to pick one name from that class to make 5 Pro-Bowls it would have been him.
My final summary on him was:
"Fitzpatrick is going to be this year's Jamal Adams. He may not be the difference in your team winning 6 games or 10 games, but he is going to be a really good DB for a long time in the NFL. He will also help change the culture and for all the talk about guards and running backs, he is my bet for safest pick in the draft."
In coverage last year, he allowed a completion percentage of less than 60% and allowed 1 TD compared to 2 INTs and a handful of pass breakups. He is rock solid and does his best work in the slot.
Right now the rumors are that the Dolphins would take a 2nd round pick for him.
So let's talk about it. Logan Ryan is outstanding and if he plays the whole season half as well as he did on Sunday then he absolutely isn't going anywhere. However, you have to think about the DB group as a whole.
I would love to have Adoree Jackson, Malcolm Butler (this version), Logan Ryan, and Kenny Vaccaro at DB next to Kevin Byard for their whole careers. However, the Titans are going to have to decide what to pay Jackson soon and there is a chance the open market could love him more than the Titans do.
That on top of the fact that Ryan's contract expires after this year make things tough at DB.
If you think about the brutal realities that the Titans are going to face this offseason, it looks like they are going to have to sign Jack Conklin, Marcus Mariota and several others.
The Titans seem really comfortable with Amani Hooker at safety instead of some corner which we heard they thought about doing. If the Titans think that he can be a top-end slot corner on basically a 3 year/$6 million deal then they absolutely need to consider that move.