Tennessee Titans need to sign a running back in the next 24 hours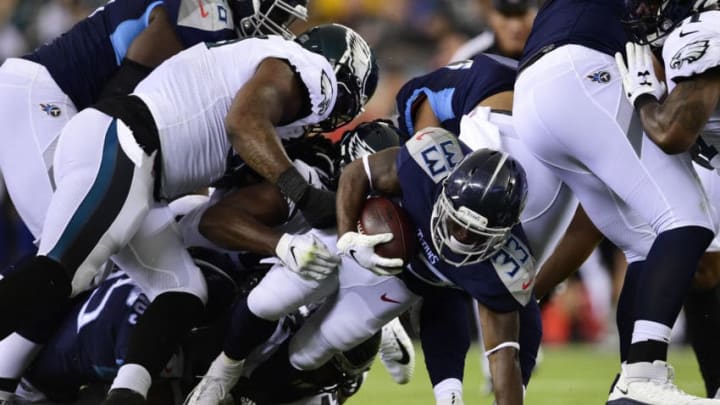 PHILADELPHIA, PA - AUGUST 08: Dion Lewis #33 of the Tennessee Titans rushes with the ball in the first quarter against the Philadelphia Eagles during a preseason game at Lincoln Financial Field on August 8, 2019 in Philadelphia, Pennsylvania. (Photo by Patrick McDermott/Getty Images) /
(Photo by Patrick McDermott/Getty Images) /
The long shot
You know who isn't happy? Adrian Peterson.
You know what happens when Adrian Peterson isn't happy? He asks for a release or to be traded.
Jay Gruden made the unpopular move to healthy scratch Peterson last week because he obviously wasn't going to play special teams and the team kept 4 RBs on the 53-man roster.
This did not go over well in the Washington locker room:
""The bad news, I can tell you that several veterans inside that locker room, according to sources, were not happy with this decision," NFL Network's Mike Garafolo reported Sunday morning. "They're saying, 'How could you do that to a guy that bailed us out last year and ran for 1,000 yards?'""
Darius Guice is injured again which means that Peterson would be active this coming week, but this exclusion has to leave Peterson thinking about if Washington is really the best fit for him.
I don't know if Gruden would do this, but the thing is that this isn't going to be a one-time thing. He said that he doesn't see much value in Peterson:
""He's a first- and second-down back," Gruden said of Peterson after the game. "So is Derrius. So, really, what do we have? About 20 first downs a game. Probably eight of those are passes, 12 of those might be runs, and Derrius can handle those 12. So if we have a game where we think we can run the ball 55 times in a game in an I-formation, then sure, I'll get him up.""
In that same article, his own offensive lineman speaks up on the record and calls the move a slap in the face:
""Any time you've got a Hall of Fame guy that doesn't dress, man, it's a slap in the face," Morgan told the Sports Junkies on 106.7 The Fan on Monday, when asked if Peterson would have helped a Redskins running game that produced a measly 28 yards in a season-opening loss to the Eagles."
If Gruden starts AP this week with Guice out and then immediately abandons him for Guice when he is healthy, do we think this situation is going to get better? Absolutely not, it is going to get worse so if he wants to stop the bleeding now he needs to make a move like this.