Tennessee Titans need to sign a running back in the next 24 hours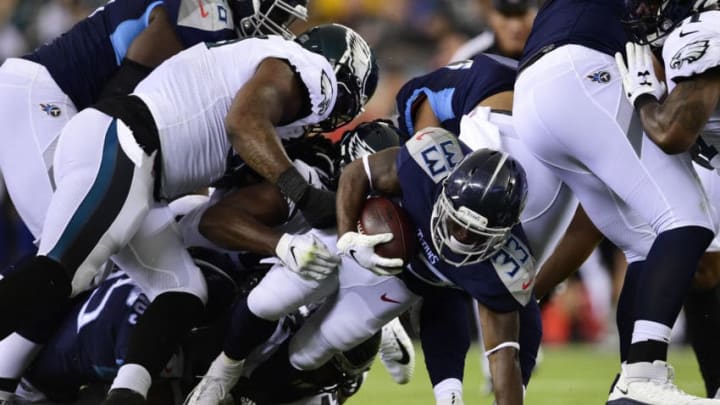 PHILADELPHIA, PA - AUGUST 08: Dion Lewis #33 of the Tennessee Titans rushes with the ball in the first quarter against the Philadelphia Eagles during a preseason game at Lincoln Financial Field on August 8, 2019 in Philadelphia, Pennsylvania. (Photo by Patrick McDermott/Getty Images) /
(Photo by Justin K. Aller/Getty Images) /
So what is the issue?
The issue is that Fluellen left practice with a hamstring injury today. While he is listed as "limited" it wasn't that he started practice and then left because of a scheduled rest day, it was a hamstring that occurred in the practice itself.
So now you have a guy who struggled to overcome a knee injury all preseason, dealing with a hamstring problem. That is absolutely brutal for Fluellen who the coaching staff loves.
It isn't a season ending injury, but he played just 4 snaps on offense in the game against the Cleveland Browns. With MyCole Pruitt showing that he can play fullback if you need him too as well as the improved Jonnu Smith that fans saw on Sunday, the offensive production should be easy enough to replace until he is healed up.
The reason why he probably isn't going to be cut or put on IR (aside from the love from the coaches) is that he just does so much on special teams.
As a do-it-all player, the Titans aren't going to move him off the roster if they can help it, but that means that right now Tennessee only has two guaranteed healthy RBs for gameday. In that situation, there is a chance that Dion Lewis is going to have to carry the load for the offense and I just don't think that is what this coaching staff wants.
The only solution is to add a RB who either:
A. Is a short term fix to cover for Fluellen's production until he is fully healthy.
B. Add a RB who is going to be a long term upgrade as a true RB2 that you don't mind running your offense through in an emergency.
That leaves a few options on the table, some much more likely than others. Let's start with the ones that require the least amount of effort.