Tennessee Titans: Kevin Byard reacts to Rex Ryan botching his name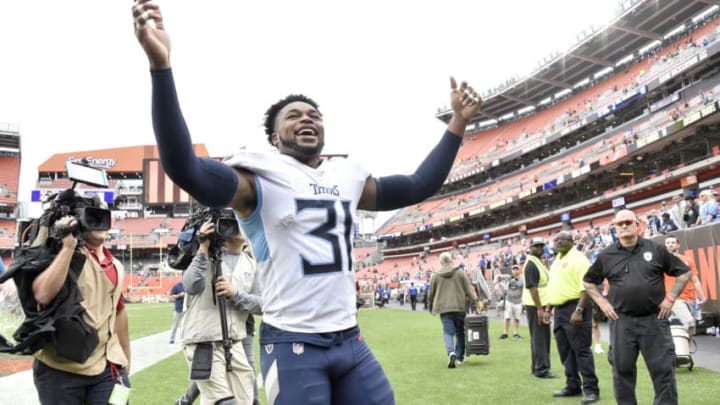 CLEVELAND, OHIO - SEPTEMBER 08: Kevin Byard #31 of the Tennessee Titans celebrates after the Titans defeated the Cleveland Browns at FirstEnergy Stadium on September 08, 2019 in Cleveland, Ohio. The Titans defeated the Browns 43-13. (Photo by Jason Miller/Getty Images) /
ESPN analyst and former NFL head coach Rex Ryan botched Tennessee Titans safety Kevin Byard's name on live TV.
When are these NFL analysts, who are former coaches and players, going to learn who Tennessee Titans safety Kevin Byard is?
After all, Byard is a former All-Pro, and the most talented and highest-paid safety in the NFL.
Apparently, former head coach and current ESPN analyst Rex Ryan still hasn't heard of Byard, or else he'd know how to pronounce his name.
That's right, Ryan botched Byard's name on the ESPN morning show "Get Up!", hosted by Mike Greenberg. You can view the clip right here, which comes to us courtesy of @martinmcrey1 on Twitter, who had his camera ready to record it off his screen.
""When you look at what they did defensively, some of Baker's throws right there, that's a great play by the safety that they paid a billion dollars to… Byrad or whatever the heck his name is… but he is an amazing player…""
Thankfully, Greenberg jumped in to correct Ryan on the pronunciation of Byard's name. At least someone knows how to say it!
Byard, and fellow safety Kenny Vaccaro, had these responses to Ryan botching his name.
Now, we're not going to get on Ryan too much because he was actually praising Byard and the sensational play he made to intercept a pass from Browns quarterback, Baker Mayfield. Ryan also praised Marcus Mariota last week, so we'll keep him out of the dog house.
This isn't nearly as bad as the Deion Sanders episode in which the Hall of Fame cornerback literally had no idea who the hell Byard was a few years back. And this was right after Byard earned himself recognition as an All-Pro safety back in 2017.
At this point, Byard should be a household name with the way he has played over the last two years, especially considering he has more interceptions in that time than any defensive back in the league.
But because the rest of the football world pays zero attention to the Titans and knows literally nothing about the franchise, Byard doesn't get the credit he deserves.
One thing's for sure: the Titans took a big step in the right direction of changing that after Week 1, and Byard was a huge part of it.