Tennessee Titans players react to Andrew Luck's retirement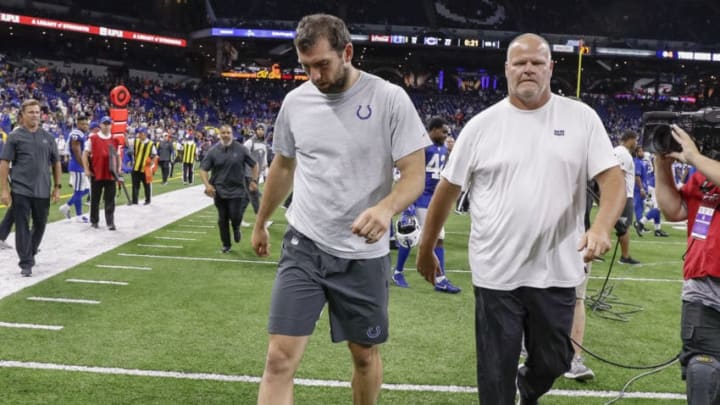 INDIANAPOLIS, IN - AUGUST 24: Andrew Luck #12 of the Indianapolis Colts walks off the field following reports of his retirement from the NFL after the preseason game against the Chicago Bears at Lucas Oil Stadium on August 24, 2019 in Indianapolis, Indiana. (Photo by Michael Hickey/Getty Images) /
Tennessee Titans players, as well as the rest of the NFL world, reacted to the news that Andrew Luck was retiring.
After the news broke that Andrew Luck was retiring, a few Tennessee Titans players reacted on Twitter.
ESPN's Adam Schefter was the first to report that Luck was planning to retire, and the Indianapolis Colts quarterback confirmed as much after the game, per ESPN's Field Yates.
The news was shocking to say the least. Luck is just 29 years old and still at the top of his game, and the Colts were favorites to win the AFC South and to be major players in the playoff picture in 2019.
Despite being a fierce rival of the Titans and owning an 11-0 record against them all-time, you never want to see a player's career end in this manner. We do wish him the best in his future endeavors.
As you can imagine, Luck's retirement announcement created quite the buzz around the league, and a few Tennessee Titans players immediately reacted on Twitter.
One of them was Titans left tackle, Taylor Lewan, who showed respect for the now-former Colts signal-caller.
Video surfaced of Colts fans booing Luck as he left the field. Titans safety, Kevin Byard, reacted to the video and wished Luck the best in the future.
https://twitter.com/KB31_Era/status/1165468354062299136?s=19
Former Titans running back, Chris Johnson, had a bit different take on things than the two aforementioned current Titans players.
Now some reactions from some players around the league.
INDIANAPOLIS, IN – AUGUST 24: An Indianapolis Colts fan holds up a sign after Adam Schefter tweeted that Andrew Luck was planning on retiring during the fourth quarter of the game between the Chicago Bears and the Indianapolis Colts at Lucas Oil Stadium on August 24, 2019 in Indianapolis, Indiana. (Photo by Bobby Ellis/Getty Images) /
Here's what Jacksonville Jaguars cornerback, Jalen Ramsey, had to say.
San Francisco 49ers cornerback and Luck's former Stanford teammate, Richard Sherman.
Sherman also made it clear that people don't understand how difficult it is to go through what NFL players have to deal with when it comes to injuries.
Luck's former Colts teammate, Robert Mathis, was shocked.
ESPN analyst and former NFL offensive lineman Damien Woody made the point that we will probably see a documentary on Luck's decision one day.
The reactions are all understandable. This might be one of the most shocking turn of events in not only NFL history, but in the history of all sports.