5 stages of Tennessee Titans fans processing Andrew Luck's retirement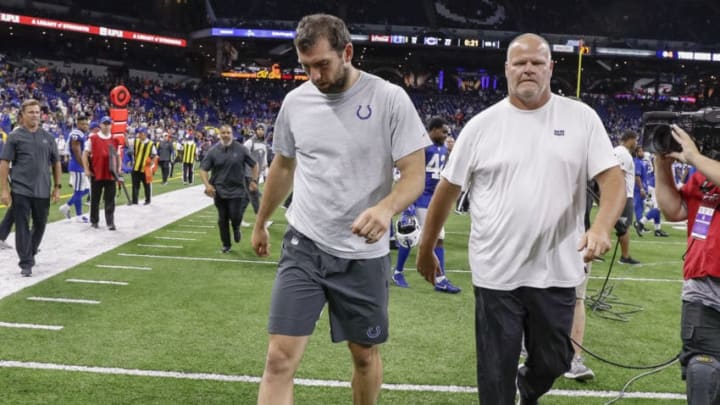 INDIANAPOLIS, IN - AUGUST 24: Andrew Luck #12 of the Indianapolis Colts walks off the field following reports of his retirement from the NFL after the preseason game against the Chicago Bears at Lucas Oil Stadium on August 24, 2019 in Indianapolis, Indiana. (Photo by Michael Hickey/Getty Images) /
(Photo by Corey Perrine/Getty Images) /
Step 5. Clarity
We are now caught up. This is where I think the Titans fan base is at or at least where they are trending.
The idea that the Colts with Jacoby Brissett are going to be so bad that they end up with worse picks than the Miami Dolphins, Cincinnati Bengals, Tampa Bay Buccaneers, Denver Broncos, or Buffalo Bills just seems impossible.
Likewise, if you:
-have $100 million or so
-if your family has been very successful outside of actually playing football
-you have a degree from Stanford
-you made this decision after seeing what life was like without football just a year ago
-heard your "fans" boo you as soon as it was leaked that you were retiring
You probably aren't going to go back on your decision and step into your same role after just a year off, if ever.
Right now, it seems like the Colts are a 6-win team that is going to have to really find a way to build a roster around Brissett to be competitive in a division that isn't hurting for talent.
Can they do it? I have no idea, but I will say that this moves them down with the Jacksonville Jaguars as the teams who are going to be perceived as significantly tougher than they actually are when you look at their roster.
Right now it seems like this move has made this a two-man race for the AFC South crown and the Titans have to like their odds.