5 stages of Tennessee Titans fans processing Andrew Luck's retirement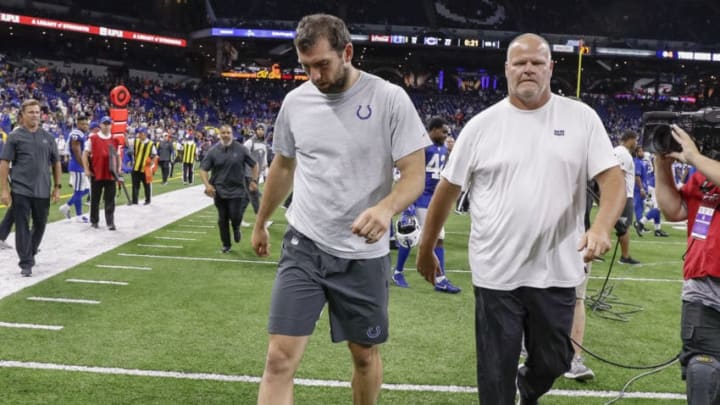 INDIANAPOLIS, IN - AUGUST 24: Andrew Luck #12 of the Indianapolis Colts walks off the field following reports of his retirement from the NFL after the preseason game against the Chicago Bears at Lucas Oil Stadium on August 24, 2019 in Indianapolis, Indiana. (Photo by Michael Hickey/Getty Images) /
(Photo by Thearon W. Henderson/Getty Images) /
Step 4. Fear
Then it hit everyone. After the waves of euphoria and then anger, people started to get out their (our) tin foil hats and imagining conspiracy theories.
Was this just a trick for Andrew Luck to try to get into the XFL where his father is the CEO and commissioner?
Is this just a one year thing where Luck is going to come back healthier and happier in 2020 and be excited to play again?
Wait. Is there a chance that the Colts are going to be able to get Tua Tagovailoa or Trevor Lawrence?!
As we all know, Tennessee Titans fans can't have nice things so this all had to be a part of some big plot. Was there some big trade in the works where some stupid team was going to give up a franchise QB for picks only to put the Titans back in the situation they were already in?
Fans had so many questions and were just waiting for the other shoe to drop and have their happiness snatched from them.