5 stages of Tennessee Titans fans processing Andrew Luck's retirement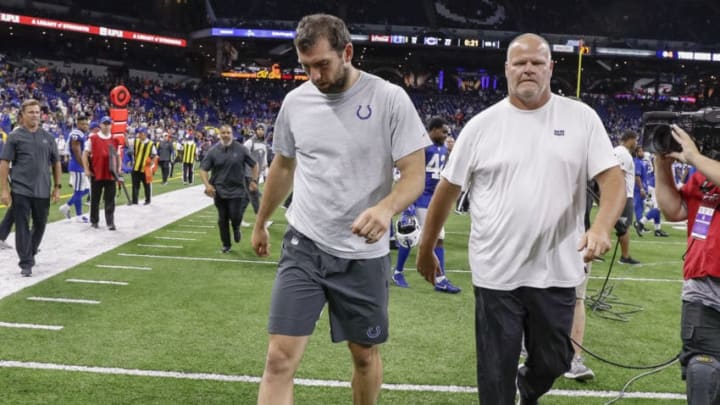 INDIANAPOLIS, IN - AUGUST 24: Andrew Luck #12 of the Indianapolis Colts walks off the field following reports of his retirement from the NFL after the preseason game against the Chicago Bears at Lucas Oil Stadium on August 24, 2019 in Indianapolis, Indiana. (Photo by Michael Hickey/Getty Images) /
(Photo by Bobby Ellis/Getty Images) /
Step 3. Anger
Do any of you have that one friend (or guy you kinda know) that is always complaining about something? The kind of guy that could find the winning lottery ticket on the side of the road and then complain about the jackpot not being high enough?
Last night, Indianapolis Colts fans collectively were that guy.
They boo'd Andrew Luck. Can. You. Imagine.
After all the man had done for them, the man who gave them a bridge after the city lost Peyton Manning, those people boo'd him.
Not only boo'd they burned his jersey and talked about how he was a soft millennial online (NSFW audio, be advised):
I mean, what kind of spoiled fan do you have to be to spend the majority of the last two decades with All-Pro/Pro-Bowl caliber QB play and then this is your reaction when the man responsible for nearly half of that thinks his body can't take it any more.
Meanwhile, there are so many teams in the NFL who haven't even re-signed a QB to a second contract in over a decade. So yea, saying Titans fans got angry on behalf of Andrew Luck sounds odd, but that was a huge part of last night's emotional cycle.