5 reasons PFF prefers Marcus Mariota to Ryan Tannehill for Tennessee Titans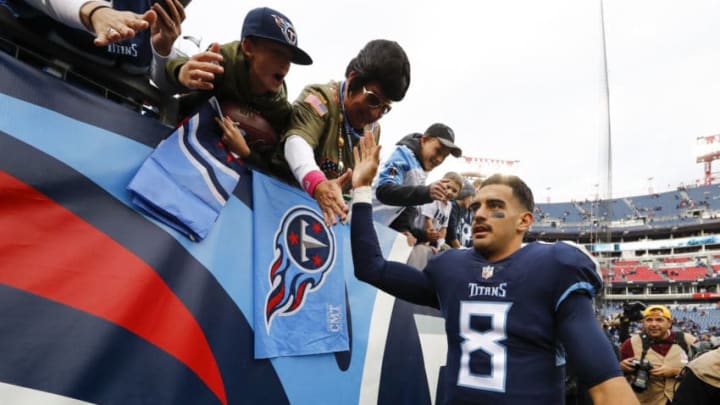 NASHVILLE, TN - NOVEMBER 11: Marcus Mariota #8 of the Tennessee Titans shakes hands with fans after beating the New England Patriots at Nissan Stadium on November 11, 2018 in Nashville, Tennessee. (Photo by Wesley Hitt/Getty Images) /
Tennessee Titans running back, /
Going in two different directions
PFF comes out absolutely swinging in their article. The begin the discussion by explaining that while Ryan Tannehill's is falling down their grading scale, Marcus Mariota has been rising for years.
"The 2018 season was by far Tannehill's worst yet, earning an abysmal 45.3 overall grade — nearly 30 points fewer than his 2016 mark. Coincidentally, Marcus Mariota is coming off his highest-graded season yet, putting up a 76.8 grade. Yet, the two are embroiled what appears to be a media-driven quarterback controversy as the 2019 campaign approaches… In terms of overall grading, Mariota has improved in his four years, albeit ever so slightly, while Tannehill has been up-and-down, with injuries getting the best of him as of late. He's started just 24 of 48 possible games since 2016."
Putting this into context for what we have seen, Tennessee Titans fans will remember that 2016 was Marcus Mariota's biggest year in the NFL statistically. A strong running game and a good offensive line allowed him to take advantage of defenses with his athleticism and precision passing.
Despite having a depth chart filled with more players out of the NFL now than in it, Mariota and key players like Taylor Lewan, Delanie Walker, DeMarco Murray, and Jack Conklin turned that offense into more than the sum of its parts.
Since then Mariota has been less consistent, but I think when you watch his game and consider what he has at his disposal and combine it with the poor position that past OCs have put him in, you have to come away at least a little impressed.
So this definitely gels to a degree because every year it seems like Marcus Mariota's weapons have been worse or his play calling has gotten worse. While I don't know if he has ever played better than he did in 2016, I do think he has found ways to do more with less year in and year out.