Patriots still have 2018 blowout loss to Titans fresh in their minds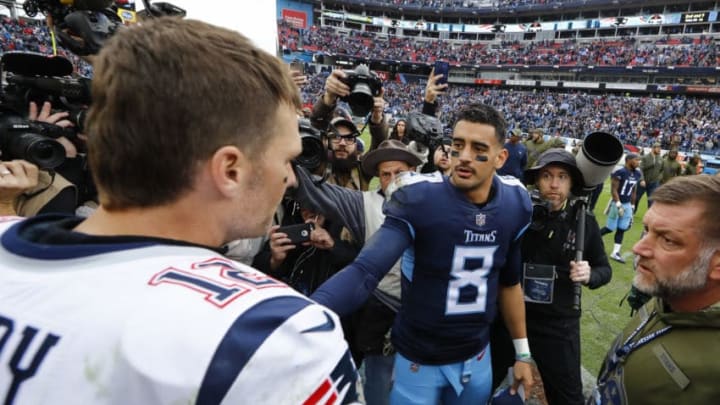 NASHVILLE, TN - NOVEMBER 11: Tom Brady #12 of the New England Patriots and Marcus Mariota #8 of the Tennessee Titans shake hands after the game at Nissan Stadium on November 11, 2018 in Nashville, Tennessee. (Photo by Wesley Hitt/Getty Images) /
New England Patriots players still have the blowout loss they suffered at the hands of the Tennessee Titans last season fresh in their minds.
Despite eventually going on to win another Super Bowl last season, the New England Patriots haven't forgotten about a blowout loss to the Tennessee Titans that occurred in Week 10 of last season.
In the victory, the Titans crushed the eventual Super Bowl champion Patriots 34-10, and it forced Patriots head coach Bill Belichick to show the game footage to his players over and over again, according to Karen Guregian of the Boston Herald.
"According to Devin McCourty, Belichick re-played the film of that Titans game to the players several times after Week 10. If that was going to be a blueprint of how to beat the Patriots, think again."
Per the same report, safety Duron Harmon says the team hasn't forgotten about the loss, nor some of the comments made after.
"You try to learn from the situation, why we played that certain way, and learn from it. But you never forget," said Harmon. "You never forget the remarks after the game. You don't forget how we played, what it felt like to lose that way. You remember that stuff."
The comments Harmon is likely talking about were those of Titans running back, and former Patriot, Dion Lewis. After the win, Lewis didn't mince words about his former team.
NASHVILLE, TN – DECEMBER 6: Dion Lewis #33 of the Tennessee Titans runs downfield against the Jacksonville Jaguars during the first quarter at Nissan Stadium on December 6, 2018 in Nashville, Tennessee. (Photo by Silas Walker/Getty Images) /
"Hell yeah it's personal," Lewis said. "That's what happens when you go cheap. You get your a– kicked."
Lewis also insinuated that the Patriots were soft.
"I didn't have to prove anything," he said. "I know I can play. I just had to let our team know that these guys are beatable…I know those guys. I know that you (can) be physical with them and let 'em have it and they'll fold."
Lewis went on to try and somewhat soften the blow of his words, but the damage was already done. Clearly the Patriots' players took notice, and didn't forget about what Lewis said.
Fast forward to 2019 and now the Patriots and Titans will hold joint practices starting on Wednesday, with a preseason matchup scheduled for Saturday in Nashville.
Of course, the Titans have a good amount of former Patriots on the team, and head coach Mike Vrabel is one of them.
Will these practices and this preseason game go on without a hitch, or will there be some bad blood resonating between both sides because of the events and comments from 2018?
We'd expect peace, but this is football after all. Regardless, it adds a bit more juice to what would otherwise be just another set of joint practices, before just another preseason game.