Do Tennessee Titans have one of most vulgar fan bases?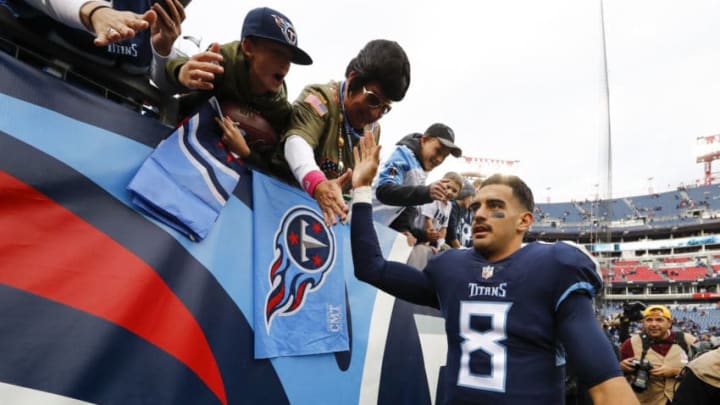 NASHVILLE, TN - NOVEMBER 11: Marcus Mariota #8 of the Tennessee Titans shakes hands with fans after beating the New England Patriots at Nissan Stadium on November 11, 2018 in Nashville, Tennessee. (Photo by Wesley Hitt/Getty Images) /
Do the Tennessee Titans have one of the most vulgar fan bases in the NFL?
A recent study was done to measure which NFL fan bases are the most vulgar, and according to the results, Tennessee Titans fans are near the top of the list.
Casino.org used the social media platform Reddit to take a look at which fan bases were the most vulgar based on profane language used in posts, and the Titans' subreddit helped rank the fan base No. 2 out of all NFL fan bases.
According to the study, the "average number of profane words used per 10 subscribers of each team's subreddit" is 10.8 for Titans fans. Only Jacksonville Jaguars fans (11.1) had more.
And which profane word was used most by Titans fans?
The word "d—" came in first, as it was used 23.1 percent of the time. If you compare that to Jags fans using the same word 71.9 percent of the time, it's clear Titans fans are at least switching it up when it comes to their vulgarity.
It's also possible that word got a boost from the recent news that Titans head coach Mike Vrabel jokingly said he would cut off his d— for a Super Bowl ring.
Now, should we be taking this to heart? I don't think so.
Instead, I'd take it with a grain of salt when talking about the fan base as a whole because Reddit users make up just a small percentage of Titans fans.
Reddit—and social media in general—can be a rough place no matter the subject. As someone who spends a fair amount of time on social media, I don't see a large percentage of Titans fans throwing out curse words like its nothing on a regular basis.
This is a funny metric, nonetheless.
And, as some studies have shown, people who use more curse words are usually smarter. So, maybe Titans fans do want to stake a claim as a fan base who uses more profane words than others.