5 changes new Tennessee Titans OC Arthur Smith will make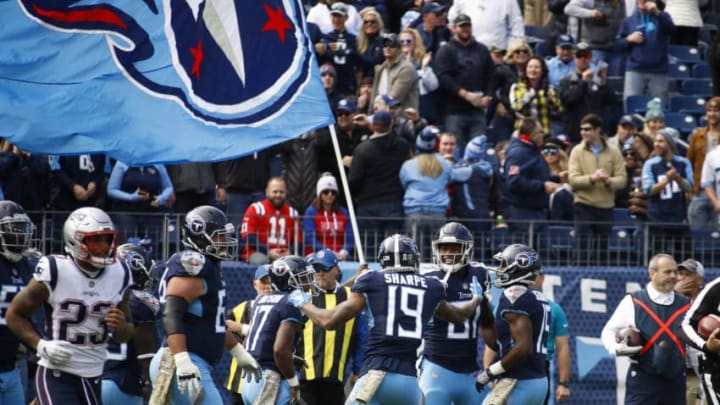 NASHVILLE, TN - NOVEMBER 11: Tajae Sharpe #19 of the Tennessee Titans celebrates scoring a touchdown against the New England Patriots with teamamtes at Nissan Stadium on November 11, 2018 in Nashville, Tennessee. (Photo by Frederick Breedon/Getty Images) /
(Photo by NFL via Getty Images) /
How Tennessee Titans new OC Arthur Smith will change the offense without restarting from the ground up.
When the Tennessee Titans promoted Arthur Smith to OC, it was a surprising double-down on the offensive coaching staff that had led down the team in 2018.
Don't forget, Tennessee averaged just 19.4 points per game in 2018 which was the 6th worst number in the league. So why would you make an in house promotion when the result was so bad?
Well, because Arthur Smith isn't just someone who helped installed and coach that offense. As many of us all know by now, Smith is a veteran of four coaching staffs with the Tennessee Titans.
While that is impressive in its own right (because coaches always want their own guy unless there is someone clearly better in house) the most important thing is that it gives the Titans something that very few teams have.
That is the ability to have a coach who has seen his quarterback thrive and struggle, and who should be able to take the aspects where he thrives and implement them more frequently. At the same time he should be able to remove the things that make him struggle, at least in theory.
This isn't just a guy coming in and watching cut ups on a player and trying to figure out what happened, he knows exactly when it was Marcus Mariota's fault and when it was someone screwing up an assignment.
He knows every player on that roster and has been with the team since nearly all of them were signed or drafted to the Tennessee Titans.
With that in mind I expect some big changes in 2019, but all the changes should be rooted in something that we have seen with past OCs. Here are the five changes that make the most sense to me.