7 Reasons to be excited for the upcoming Tennessee Titans season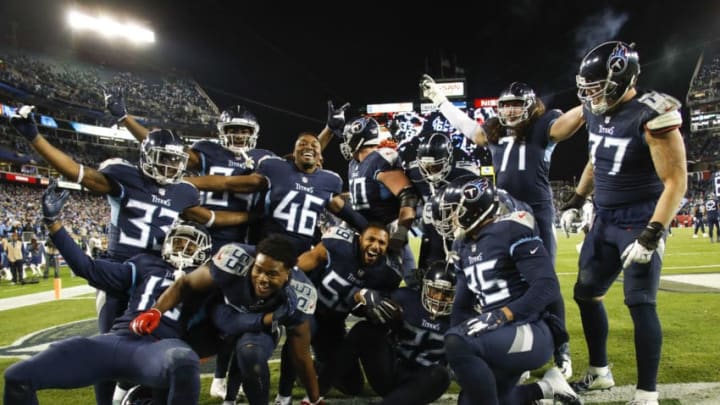 NASHVILLE, TN - DECEMBER 6: Derrick Henry #22 of the Tennessee Titans celebrates a touchdown with his teammates during the fourth quarter against the Jacksonville Jaguars at Nissan Stadium on December 6, 2018 in Nashville, Tennessee. (Photo by Frederick Breedon/Getty Images) /
When Mike Vrabel was hired last year as the Tennessee Titans head coach, the reaction was very split from the fans. He has never been more than a positional coach at the professional level, and for a team that is as young as the Titans are, this had to be a move that couldn't go wrong. It didn't take long for Vrabel to become a guy the players and fans found much respect in.
When Johnathan Cyprien went down with a season-ending injury last summer, Vrabel decided to end practice right then and there. From experience, when a teammate goes down with a brutal injury, it can be tough to regain the mindset to continue practicing, so by doing what he did, he gained a respect from his players.
Another reason that there is excitement around him being the head guy, is that he takes chances. Look back at when Jack Del Rio was the head coach in Oakland.
He would take chances on fourth down, fourth and goal, even 2-point conversions which made players want to play for him, and made the game that much more exciting to watch or be apart of. Last season, the first glimpse of this came in week two against Houston. With 10:00 left in the first quarter, the Titans trotted out the punt team on  4th and 7 at their own 34 yard line. Most teams would punt and swap field position, especially having the best punter in the league, however Vrabel decided to change that up.
Dane Cruikshank was lined up by himself to the right and Kevin Byard received the snap. Byard throws a long pass to a wide open Cruikshank who ran it 66 yards down the sideline past the deep man and into the endzone for a score.
Vrabel also went for two in London against the Chargers, however that didn't turn out as well. Vrabel has shown time and time again that he will take chances with this team, and it's hard not to get behind a guy that does that.