7 Reasons to be excited for the upcoming Tennessee Titans season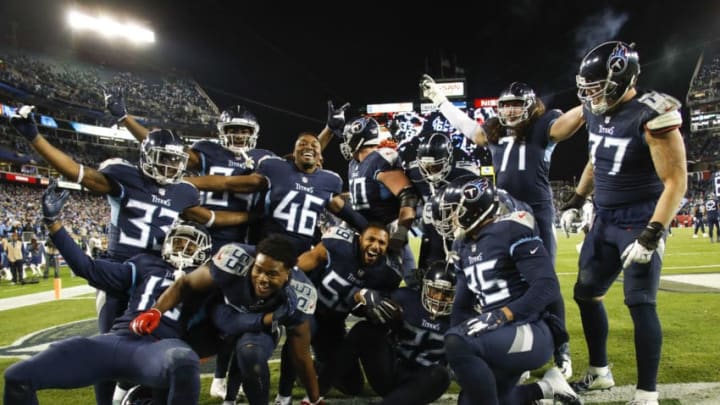 NASHVILLE, TN - DECEMBER 6: Derrick Henry #22 of the Tennessee Titans celebrates a touchdown with his teammates during the fourth quarter against the Jacksonville Jaguars at Nissan Stadium on December 6, 2018 in Nashville, Tennessee. (Photo by Frederick Breedon/Getty Images) /
The Tennessee Titans have had a busy offseason, and all of that leads to these seven reasons to be excited for the 2019 season.

The Tennessee Titans started last season with as many high expectations as they did question marks regarding how they would perform throughout the year after one of the longest games I can remember in Miami.
You may remember that as the game in which stars Delanie Walker and Taylor Lewan were taken out, the former being lost for the entire 2018 campaign. So, a tough start for the Titans.
Tennessee then followed that ugly loss with two divisional wins against the Houston Texans and Jacksonville Jaguars and a big win against the defending World Champion Philadelphia Eagles in overtime after key drives by our offense down the stretch.
The boys in the two-tone blue then followed that stretch with two ugly losses to the Buffalo Bills and Baltimore Ravens, then losing in London on a failed two-point conversion that would have given them the win over the Los Angeles Chargers, who ended up turning their season around after a rocky start thanks to that win.
The rest of the season matched the first half of being very up and down. After a big Monday Night Football statement win over the Dallas Cowboys, the Titans then throttled the Patriots at home in the most complete win of the season. What followed were beat downs by the Colts and Texans, a struggle win over the Jets, another win over the Jaguars, then two wins over the Giants and a struggle win over Washington padded by a game-ending pick-six by Malcolm Butler.
Then came the biggest game of the season, a matchup against the Colts in which the Titans needed to win to make the playoffs. However, they had to do this without their starting quarterback and their leader on the defensive line in Jurrell Casey. When the dust was settled, the Titans had been defeated by Andrew Luck and the Colts, and finished their season at 9-7.
Going into the offseason, Tennessee had some holes that were going to have to be filled, but excitement was growing due to Nashville finally being allowed to host the NFL Draft. After signing key free agents, knocking the draft out of the park, and hiring a new OC, here are seven reasons why fans should be excited for the upcoming Titans season.