Tennessee Titans vs. Indianapolis Colts flexed to Sunday Night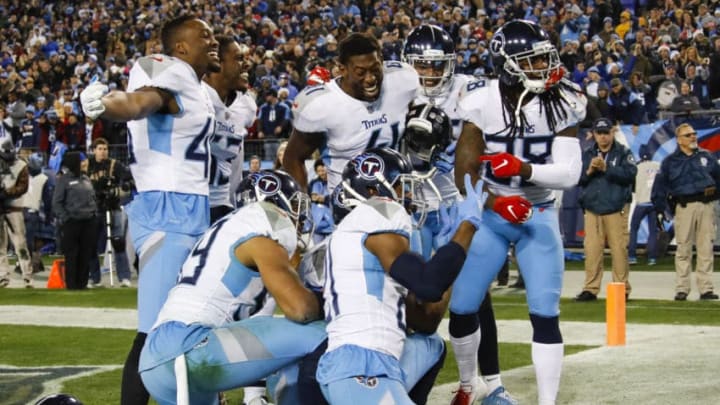 NASHVILLE, TN - DECEMBER 22: The Tennessee Titans celebrate the game winning interception against the Washington Redskins at Nissan Stadium on December 22, 2018 in Nashville, Tennessee. (Photo by Frederick Breedon/Getty Images) /
With the Week 17 matchup between the Indianapolis Colts and Tennessee Titans deciding a playoff spot, NBC has flexed the game to Sunday Night Football for the final game of the regular season.
Going into this weekend, the Tennessee Titans need two main things to go their way: A victory over the Washington Redskins and a loss by either the Baltimore Ravens or Pittsburgh Steelers. The Titans came from behind to beat the Redskins on Saturday afternoon, but they didn't get the result they were looking for that night, as the Ravens pulled off a road upset against the Los Angeles Chargers.
Needing the Steelers to fall to the New Orleans Saints on the road, Titans fans went through tense moments as the Steelers hung in throughout the entire game and held a four-point lead deep into the fourth quarter. A questionable, dumbfounding fake punt call by Steelers coach Mike Tomlin set the Saints up in good position with about four minutes left, though, and the Saints took advantage by scoring on a Drew Brees-to-Michael Thomas connection. On the ensuing drive, the Steelers marched down the field, but a JuJu Smith-Schuster fumble sealed their fate and knocked them to the bottom of the AFC playoff picture.
With the loss, the Ravens now lead the AFC North and the Indianapolis Colts are in the sixth and final playoff spot, with the Titans right behind them due to a superior conference record. Because both teams play each other next week and the Steelers unable to get to 10 wins, the Colts and Titans will be playing an elimination game in Week 17 in Nashville (unless they tie). NBC, which will be broadcasting the final game of the regular season on Sunday Night, has noticed the magnitude of the game and planned accordingly.
This will be the first time in the Titans' history that they will play a game on SNF since October 11, 2009, when they lost 31-9 to the Colts at home. That is certainly not a good or comforting precedent, but these are much different teams that have grown in different ways since that game.
By beating the Redskins on Saturday, Tennessee set a franchise record by uncorking three straight winning seasons for the first time in modern history. The Titans will now have a chance to make a huge statement on the biggest stage in football in the last game of the regular season, at home in front of a roaring crowd that will be completely behind them no matter who is on the field. Goosebumps will be felt.