Tennessee Titans: Consistency needed for final four games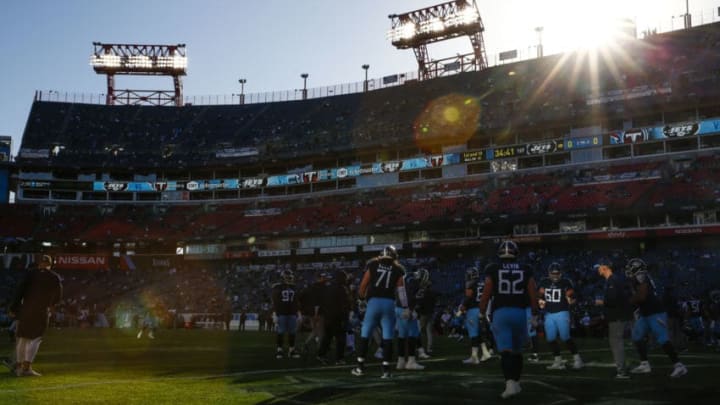 NASHVILLE, TN - DECEMBER 2: The Tennessee Titans warm up before playing the New York Jets at Nissan Stadium on December 2, 2018 in Nashville, Tennessee. (Photo by Frederick Breedon/Getty Images) /
Let's take a quick look at what the Tennessee Titans must accomplish over the final four games in order to be in the playoff race.
With the most recent win over the New York Jets and a quick turnaround game against the Jacksonville Jaguars, only four more games remain for the Tennessee Titans to find a seat at the playoff dinner table. The Titans do not control their destiny, but if they win out, they do have a high chance of getting in.
What exactly do the Titans need in these final four games?
There is one glaring problem for the Titans that I feel not enough people are talking about. All season you have heard of different problems surrounding the team, whether it be the secondary, offensive line, or even Marcus Mariota himself. But none of those components have been the Titans' primary problem. The Titans have all the parts they need to be successful, and we have seen games already from the Titans that have shown that, such as the New England Patriots or Philadelphia Eagles games. In those games, the Titans put together a complete game where both sides of the ball were working harmoniously.
The Titans' biggest problem at the moment is simple: consistency. The Titans have been the most inconsistent team in the NFL, hands down, and it seems that because of that inconsistency, they have lost very easy games that they should have won. In no world should the Titans beat the Pats but lose to the Bills; it's unacceptable and needs to be honed in. If the Titans find themselves in the playoffs, I would consider them very dangerous, because the Titans have played their best football against strong teams. But with the Jaguars, New York Giants, Washington Redskins and Indianapolis Colts coming up, these are teams that the Titans should handle with ease on paper. But as we have come to find out, the Titans love to upset the apple cart, and not in a good way.
With three of these games at home, the Titans should be very capable of winning out. The Titans can control most of their destiny, and that starts with winning, but winning will only happen if they can be a consistent team. How do you think the Titans will finish off their season? Let me know in the comments or find me on Twitter @ZacheriahW!