Tennessee Titans & Taylor Lewan proved America right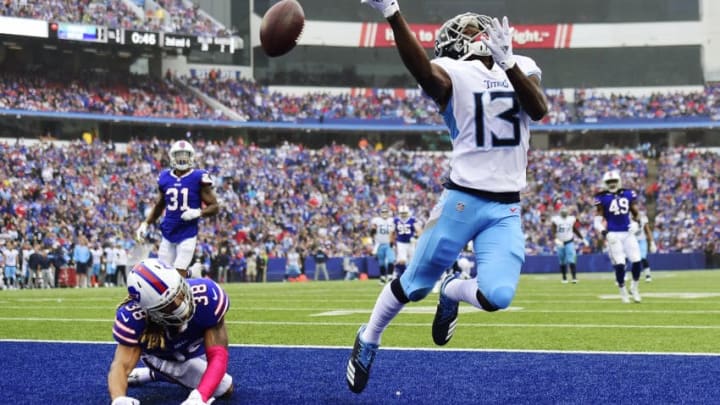 BUFFALO, NY - OCTOBER 07: Wide receiver Taywan Taylor #13 of the Tennessee Titans is in unable to catch a pass in the second quarter against the Buffalo Bills at New Era Field on October 7, 2018 in Buffalo, New York. (Photo by Patrick McDermott/Getty Images) /
The Tennessee Titans, along with Taylor Lewan, wanted attention from America. They got it. In the end, it wasn't the kind of publicity they intended to have.
The NFL is a prime example of pure drama. We see things happen that no one would have expected to occur. This is what makes the NFL so entertaining to watch. The Tennessee Titans, with help from the Buffalo Bills, helped prove that yet again yesterday.
After facing and beating the Jacksonville Jaguars and Philadelphia Eagles in back-to-back games, Titans fans were expecting attention. This was a team that rightfully deserved it. While the wins were impressive, there was still a mixed reaction around the American public and sports media. Some loved the wins and the direction of the team. Others continued to take little notice. That's when things got interesting.
Instead of keeping quiet and being humble, one of the the Titans' key icons, LT Taylor Lewan, spoke out.
""It's ridiculous that people don't give the Titans enough credit. Obviously, we've been up and down with wins the last two seasons. We've had winning seasons with a big playoff win. You've got to start giving the boys more credit, man. Like there's 32 (NFL teams), there's not 31. You've got to start respecting Nashville.""
That statement by Lewan got national sports media all over it. NFL Network's Good Morning Football analyst Kyle Brandt only added fuel to the fire.
""I crave turnover in this league. I like variety. I would love a Titans-Redskins Super Bowl. I'd be way into. But nationally. Taylor, you're right. There are not 31 teams. There's about 27 – 26 to 27. Personally, I like it. But nationally, they think you're an offensive lineman on a team that they don't care about it in a city they've never been to whose identity they view as churning out redneck music and being Kansas City's barbecue understudy. They think your quarterback never says anything, your teammates aren't winning them any fantasy titles or fantasy leagues. They think you got hammered by the Patriots and then tried to fix things by signing a bunch of Patriots castoffs, including your head coach… I think you have a team that runs and hits and fights. I hope you guys win because I would love to see it. But most of this country, Taylor, can't wait for you to lose so they don't have to watch it. There is your fuel, do with it what you will.""
The rest of the week was filled with different reactions over social media. The ultimate factor is, Week 5 of the NFL's story of the week was the Titans, and for all of the wrong reasons.
I love Lewan, but this was a disaster from the very moment he opened his mouth. Like the saying goes: Be careful what you wish for because you might just get it. The Titans and Lewan both ended up paying the price, and not in a good way. The Titans lost to arguably one of the worst teams in the NFL to magnify things even more and Lewan ended up leaving the game due to injury. Now, the rest of America is sitting in their living room couches laughing.
Attaining respect from others must be earned, not given. That's how championship teams represent themselves. If the Titans and Lewan have anything to learn from this, it is to stay silent and humble, both when losing and winning. Who knows? Had they done just that, the outcome of yesterday's game might have ended up in their favor.