Tennessee Titans vs. Oakland Raiders: Bold Predictions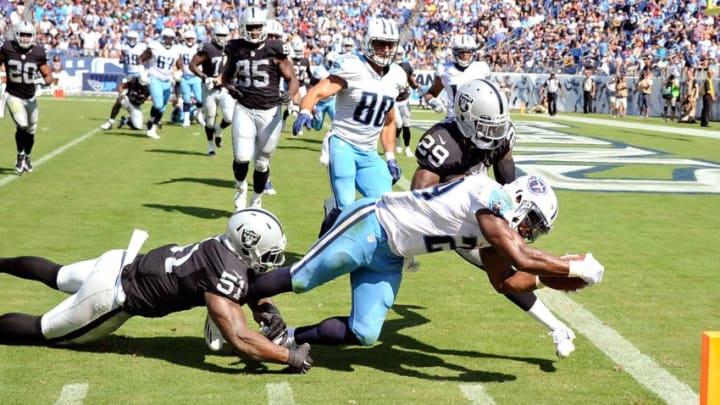 NASHVILLE, TN - SEPTEMBER 25: DeMarco Murray #29 of the Tennessee Titans dives to score a touchdown against the Oakland Raiders during the second half at Nissan Stadium on September 25, 2016 in Nashville, Tennessee. (Photo by Frederick Breedon/Getty Images) /
In less than seven days, the Tennessee Titans will take on the Oakland Raiders in Week 1 of NFL action. Both of these two teams have a lot of hype surrounding them, and rightfully so. The Titans have Marcus Mariota, DeMarco Murray, one of the most dominant offensive lines in football, and a revamped receiver corps set to hit the field.
The Oakland Raiders have Derek Carr and Khalil Mack returning, along with Marshawn Lynch who came out of retirement to join the Raiders. These two teams share a lot of similarities. One could even argue the two share only one weakness, and that's the defensive secondary. This game has all the makings of an exciting contest. Here are some bold predictions for the two.
Both Teams will have over 400 yards of total offense.
If you want to take it a step further, each team will have over 100 rushing yards and 300 passing yards. For the Titans, rushing for over 100 yards doesn't sound like too much of a stretch. A mobile quarterback, two spectacular running backs, and a great offensive line will do that for you. Oakland has a strong-armed quarterback, two great receivers in Amari Cooper and Michael Crabtree that can stretch the field, a great offensive line, and Beast Mode (Lynch). Some argue that Lynch will have lost a step due to his age and being out of the game for a year. However, the Raiders' offensive line is such an upgrade over the Seattle Seahawks, even having lost a step Lynch should still look like his former self.
Tennessee Titans /
Tennessee Titans
For the Titans, 300 passing yards is a lot. Their game plan is no secret: run the football and control the clock. The problem with this is Oakland has a dynamic offense that can score a lot of different ways. If the Titans want to stay in this game, they're going to have to score points. Last season, Oakland was horrific covering tight ends and the Titans have one of the best in the game in Delanie Walker. To go with Walker, the Titans have Eric Decker, Rishard Matthews, and making his Titans debut, the number 5 overall pick, Corey Davis.
The Raiders have arguably the league's best duo at wide receiver in Cooper and Crabtree. Carr will be throwing the ball to them against the Titans' unproven secondary.
Taywan Taylor will start over Eric Decker and Corey Davis, and play more snaps
What? A third-round rookie will start over the number five overall pick and a proven 1000 yard receiver? Yes. Because of injuries, Decker and Davis have missed almost all of the offseason practices. It will take time for the two to get into football shape. They will see the field, but Taylor will see it more. The Titans coaching staff loves Taylor, and as we've seen in the preseason, the Titans have plays designed specifically for Taylor.
No Sacks for Either Team
The bread and butter for both of these teams is pressuring opposing quarterbacks. While we will see plenty of disruption and hurried passes, neither team will get a check mark when it comes to sacks.
The Raiders and Titans have key investments in pass rushers, but both have great offensive lines and competent quarterbacks. For the Raiders, it's former defensive player of the year Khalil Mack leading the way, but he'll be facing off against All-Pro right tackle Jack Conklin. The Titans pass rush is led by Jurrell Casey. Casey will have his work cut out for him going against left tackle Donald Penn.
No Punt or Kick Returns
Another similarity between these two teams is they're both good on special teams. Expect to see punts sail out of bounds and kickoffs through the end zone. Neither team will want to test their opposing kick returners.