Jon Robinson Has A New Title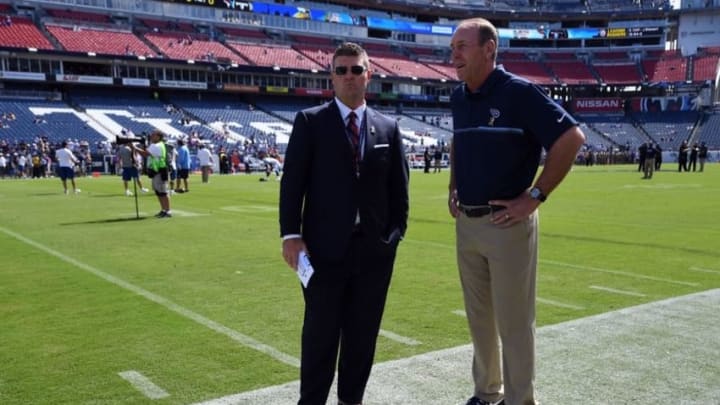 Mandatory Credit: Christopher Hanewinckel-USA TODAY Sports /
Now that the Titans season is over, it is time to review everyone involved with last season. Controlling Owner Amy Adams Strunk decided that General Manager Jon Robinson should be promoted. Robinson is now an Executive Vice President to go along with his General Manager duties. All this really means is that he has a new title. Robinson will continue to be in charge of personnel  and have all the same duties that he did as just General Manager, but this is recognition for doing a job well done.
""He (Robinson) and Mike (Mularkey) deserve a great deal of credit for our turnaround this year and I am hopeful that will continue this coming year and into the future." said Owner Amy Adams Strunk"
Robinson's success in his first year as general manager spanned from these moves that turned the Titans into a team that almost made the playoffs.
Trades
Robinson managed to get star Running Back DeMarco Murray for 13 spots in the 4th round of the 2016 draft. Murray was at a low point in his career in Philadelphia, but he turned it around in 2016 with one of the best years of his career.
Draft
Other big accomplishments, were drafting Heisman winner Derrick Henry and top Offensive Lineman Jack Conklin. Henry has the potential to be the next Eddie George, while Conklin can easily be the man paving the way for Henry on the right side of the line for the next 10 years.
Waivers
The draft and trades were not the only thing the Robinson was successful in. The Titans managed to find guard Josh Kline on waivers from the Patriots. Kline was part of the glue that held the Titans offensive line together which you can read about here. As an undrafted free agent, Kline solidified the inside of the offensive line to pave the way for the running game.
Free Agency
He also found diamonds in the rough when signing Rishard Matthews and Ben Jones to contracts.
Christopher Hanewinckel-USA TODAY Sports /
Overall, Matthews was the best wide receiver on the roster. His excellent season makes Kendall Wright expendable after this year. Another big free agent signing was Center Ben Jones. Jones was the veteran presence on the offensive line and is one of the best centers in football right now.
In Conclusion, Robinson has done an excellent job since he took over in Nashville. Hopefully next season brings more rewards than this one and Robinson continues to shine as Executive Vice President.
Information and quote from Jim Wyatt of Titansonline.com