Q&A With Houston Texans FanSided Site Toro Times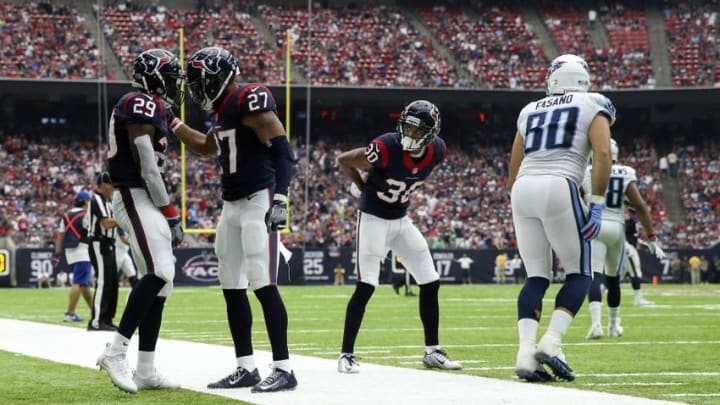 Oct 2, 2016; Houston, TX, USA; Houston Texans free safety Andre Hal (29) and strong safety Quintin Demps (27) react during the fourth quarter against the Tennessee Titans at NRG Stadium. Mandatory Credit: Kevin Jairaj-USA TODAY Sports /
1. So the Texans are division champs for the second year in a row. Even with that in mind, head coach Bill O'Brien has drawn plenty of criticism throughout the year. Do you believe he is the right guy for the Texans going forward into these next few years?
Josh: I think he's a fine head coach—he took over a 2-14 team and has now led them to three straight winning season right off the bat. He also has had many different starting quarterbacks. However, he needs someone new as an offensive coordinator that will call plays. He seems a little too set in his ways with play calling and very conservative; as if he's playing not to lose. I know that this team is built to be more reliant on the run and defense, but this takes it to another level. He just calls the same plays over and over despite the fact they don't work during games. Part of that has to do with personnel I am sure, but I also put part of it on O'Brien. He's not the problem and it would be a bad idea to fire him, because as we've seen you can do a lot worse than him. I also think they need to stick with a quarterback and give him time to get acclimated to O'Brien's system.
2. Tom Savage has been competent, if not unspectacular, since taking over the starting job. Do you think he's a long term answer or just a spark for this season with Brock Osweiler playing so poorly?
Josh: I think he's the best option for now. I do not believe that he is the long term answer for this team, at least not yet. He will have to do more to convince me of that. Beating two teams with losing records by a combined three points does not impress me. During these two games he has taken care of the ball, which has been a much needed change, but in the long term I'm just not ready to declare him the guy. The things he has done that have made him better than Osweiler have been not taking unnecessary risks and spreading the ball around. Ironically, Osweiler tried to force feed the ball to Hopkins but he was double covered so often that so many of those throws ended up in interceptions. When Osweiler started using the tight ends, he looked better. Still, he usually would make a couple of boneheaded throws every game that ended up costing the Texans in their losses. Because of that, I think Osweiler lost the team and since then they have rallied behind Savage.
3. Where do the Texans have to improve in order for them to continue to be atop the division for years to come?
Josh: Well really it's obvious—they have to find a stable starter at quarterback (they haven't had the same starting quarterback to start the season two years in a row since 2012-13). The Texans have just about everything else. They have a running game with Lamar Miller, a top receiver in DeAndre Hopkins, a stud leader on defense in Jadeveon Clowney (with J.J. Watt coming back mind you) and an overall solid roster. There are still positions they can improve in (offensive line—RT specifically, safety and certain others) but overall the direction of the team looks solid. But they will not be a true contender in the AFC until they lock down a starting quarterback.
Looking at the rest of the AFC South the Colts look like they are going to be a mediocre team for a long time. They have Andrew Luck and T.Y. Hilton and that's it. The Jaguars are going to have another new coaching staff and potentially go through another rebuild with another quarterback (it might be time for them just to cut Bortles loose and make a fresh start, I think they've ruined him) and then you have the Titans, who look like they can challenge the Texans going forward. So I think the opportunity is there for the Texans to be good for the next few years and perhaps beyond.
4. What are you expecting to see out of the Texans on Sunday? Whether it be from the starters or backups that might play an extended period of time?
Josh: I think they are going to try to get Savage as in sync with the receivers as they can. I say let him sling it around a bit because that's the only way that he'll be able to develop chemistry with the receivers and take some chances, because the consequences for having them not work out are not that high. I can't see Lamar Miller playing much, if at all. I would leave him inactive personally because he needs the rest before the wild card game. It may be time to see other options at right tackle because Chris Clark has just been so bad in recent weeks, and this might be the time to do it. Defensively, I think they'll keep Clowney's snaps lower to avoid risk of serious injury, and perhaps the game for Vince Wilfork and Brian Cushing—two older guys that need to be fresh for the wild card game. Some young guys like Joel Heath and Christian Covington will likely see more time along the defensive line and maybe more Brian Peters at linebacker, assuming he is able to go in this one.
5. What is your predicted score for Sunday's game?
Josh: I think the Texans will scrape it out 23-20. Without Mariota I think the Texans will stack the box and force Matt Cassel to throw the ball to beat them. Against one of the top defenses in the league and what we've seen out of Cassel recently, that very much favors the Texans. However, due to the Texans struggles on the road this year (they are 2-5 away from Houston), it would not surprise me if the Titans pull it out and have their first winning season since 2011 while the Texans fail to reach double digit wins for the fourth straight year.