2017 Draft Possibilities for the Tennessee Titans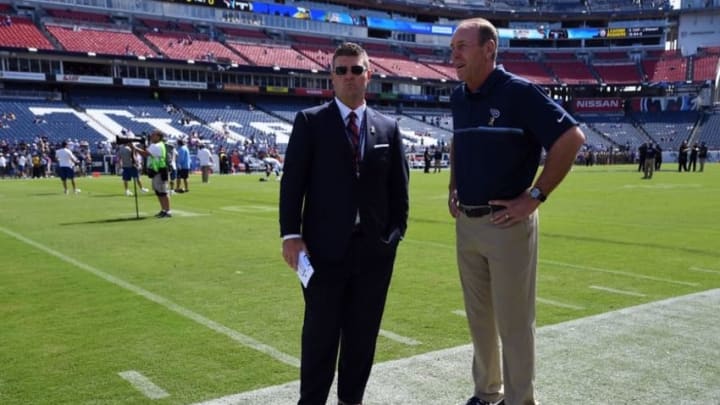 Sep 11, 2016; Nashville, TN, USA; Tennessee Titans general manager Jon Robinson (left) talks with head coach Mike Mularkey prior to the game against the Minnesota Vikings at Nissan Stadium. Mandatory Credit: Christopher Hanewinckel-USA TODAY Sports /
We're a quarter of the way through the 2016 NFL season and because my job title isn't GM I feel it's way too early to be talking draft. BUT, this draft is going to be HUGE for us. It has the possibility of setting us up for the next decade.
The way things are looking, it's possible the team ends up with two top ten picks (one acquired from trade with the Rams), with possibly one as a top five pick. Currently, the Rams are at the top of their division with a 2-1 record. That loss on their record is a big one, coming at the hands of the 49ers who I had pegged for one of the two worst teams in the league. And to top it off, their number 1 overall pick isn't even starting.
So let's look at some possibilities and how Jon Robinson likes to work the draft to see how this thing might play out.
After one off-season under Jon Robinson, it's clear he likes to wheel and deal. So there's a good possibility he trades one of these picks for another bundle of picks.
Another possibility is the Titans pick up another pass rusher. This position may not be a direct need, but this pick would set us up for years to come. Outside of Myles Garret, Derek Barnett, and Tim Williams, this year's pass rushing class looks pretty thin, so they would need to take one early. Any of these guys would be a great pick up to put across from Kevin Dodd in the coming years.
Jon Robinson came from the Patriots and New England always spends their early round picks on guys who play in the trenches, but this Titans team has a real need in the secondary. Jason McCourty has played average at best, Perrish Cox and Brice McCain have been nothing short of terrible, and our safeties have been mostly average as well. Luckily, this is looking like a pretty deep class for cornerbacks. Names like Desmond King, Jalen Tabor, and Marlon Humphrey will all go in the first round and all three of those should be able to unseat Perrish Cox as a starter. One name that has my attention is Cam Sutton. He was projected to be a late first rounder to mid second rounder, but was hurt in the second game of the season and will be out for the year. Cam could likely come in and take Brice McCain's job in the slot; not only that, he can play special teams as a return man, and Mularkey loves players who can contribute on special teams. If he's still available for the Titans in the third round they should be running to the podium.
Another need for the Titans is a true number one receiver. Which, again, this class seems relatively short on. Tajae Sharpe, Rishard Matthews, and Kendall Wright all make great second receivers, but none really strike fear into defenses and demand double coverage.
My personal preference depending on how the draft order falls would be for the team to trade one of the picks, and get a second round pick back. First pick (still early in first round): take one of the pass rushers. Second pick (mid-late first round): take a defensive back. Second round: take either a receiver or a replacement for Chance Warmack. Third round: another defensive back.