2016 NFL Supplemental Draft preview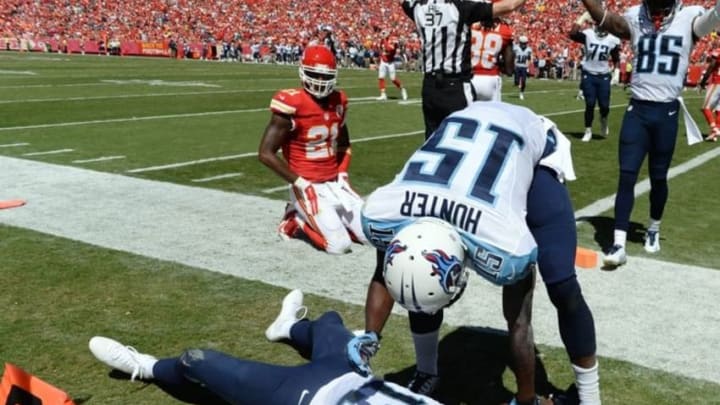 Sep 7, 2014; Kansas City, MO, USA; Tennessee Titans wide receiver Kendall Wright (13) is congratulated by wide receiver Justin Hunter (15) after scoring a touchdown against Kansas City Chiefs in the second half at Arrowhead Stadium. Tennessee won the game 26-10. Mandatory Credit: John Rieger-USA TODAY Sports /
The last domino in the 2015 NFL offseason is about to fall: the 2016 NFL Supplemental Draft.
While many people see that every year and think that there will be some great hidden gem, there is a good chance that this supplemental draft will be just that, supplemental.
Often, these drafts are filled with players that have clear issues in their game or off the field. With most team's having their roster pretty well set, it makes sense that it takes a lot of talent or upside for a team to bite.
If you think about it, for a team to use a draft pick on a supplemental player, they have to think that he will not only be good enough to earn a chance, but that he is a lock to make the roster and likely will contribute in year one.
While there is a big nose tackle-type prospect in this draft (Ra'Zahn Howard, Purdue) the one player that should interest the Tennessee Titans is Rashaun Simonise, a wide receiver from Canada.
Here is the skinny on him from what limited film and information I can find on him:
-Right off the bat, Simonise had his pro day and was measured at a legitimate 6'5″ and right at 200 lb. That is a truly impressive height and he would have been the tallest true wide receiver in this past draft. That is a unique quality that could help someone get drafted in a supplemental draft.
-Very productive in his last year, 1,079 yards and 11 touchdowns in just 51 catches over 8 games.
-Good hands catcher, and he runs through contact well for a player with a slight build.
-One of his issues aside from the talent gap between Canada's players and the NFL, is his lack of routes. He wins on some out routes, but he really makes a living off of the 9 route and some quick screens. Those are the same knocks that people had on Dorial Green-Beckham on the field too.
Honestly I think he is a perfect fit for this offense if the Tennessee Titans don't like what they have seen from Justin Hunter so far this camp. He could also be a player who could thrive in the slot if they don't feel confident in re-signing Kendall Wright, who doesn't seem like a lock to be back in Tennessee next year.
The supplemental draft is rarely set up perfectly for any team, but since the Tennessee Titans have an opportunity to get a ton of picks back since they have two first round picks next year. That means that the Titans could use a 5th round pick for Simonise and try to recoup that pick next year by trading down in the first round and getting that (along with a 2nd and more) back.
I think a 5th round pick would definitely lock Simonise up and it would give the Titans the potential to get another huge target for Marcus Mariota. It would also be a great fit for Simonise who gets a chance to work with a great quarterback and it gives him a job (slot WR) where he can slowly adapt to the physicality of the NFL and not deal with press coverage immediately.