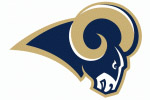 2. St. Louis Rams (from Washington)
Jadeveon Clowney
Defensive End, South Carolina
Let's consider the surrounding circumstances facing the Rams. They're in an NFC West division with three grueling defenses. Head coach Jeff Fisher has enjoyed his most successful seasons when his Tennessee Titans defenses were plentiful along the defensive front with capable defensive backs throughout the entire secondary. While many outsiders and experts look at this offense and think of a pick No. 2 and 13 combination that includes OT plus Mike Evans or Sammy Watkins plus OT / Zack Martin, I'm expecting the Rams to either trade out of No. 2 or use No. 2 and 13 to load up on defense. That starts with Jadeveon Clowney, who may remind Coach Fisher of Jevon Kearse.